Sambungan dari entry ni, oleh kerana masa ni hujan dah mula membasahi bumi, maka kiterang decided pi makan dulu. agipun I dah rasa gigil tak makan. kang pening-pening plak kan. Sebab tadi breakfast sikit je. So kita pun mencari makanan.Kiterang pi foodcourst je
Pastu order 3 nasik ayam dan satu kids meal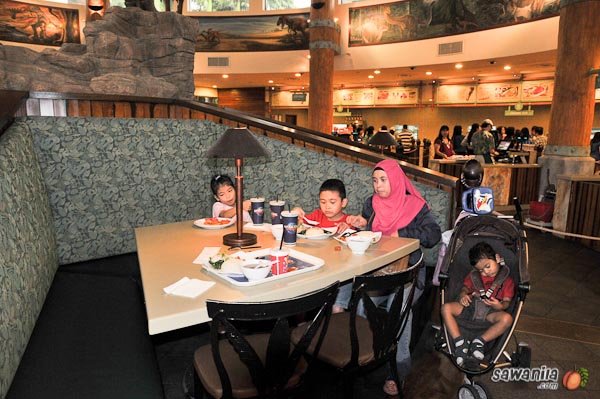 Sementara Rayyan tengah tido marilah kita makan dengan tenang.Kita simpan half of the kids meal tu untuk Rayyan, sebab Afriena makan sikit je. Dia sebenarnya nak lunch box tu. Ashraff makan nasi ayam. Lapar la tu selalu jarang mintak nasi.
Senarai harga makanan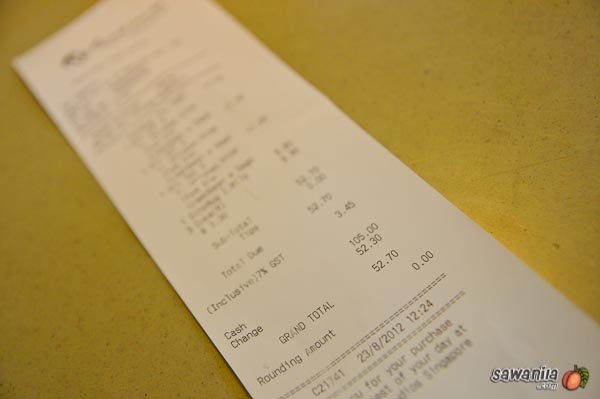 Kheirul kata ni standard makan kat Mc D la ni… sila beri PERHATIAN… JANGAN CONVERT!!! For those yang mungkin akan bertanya status halal, yes it's halal. Ada MUIS certification. Kami sangat particular pasal makanan, jadi kami akan check dulu.Don't worry, makanan dalam USS banyak yang halal, jadi anda takkan kelaparan. Yang penting tengok dulu cop MUIS tu.
Lepas makan hujan makin lebat, jadi terpaksa beli ponco. 3 adult ponco,2 reuseable kids ponco. I terlupa nak bawak rain cover untuk Rayyan, heheheh so kena pakai ponco la. Sebab masa beli Quinny Zapp ni, memang ada sekali rain cover, pakai sekali je kot masa kat Bangkok ke Hanoi. I lupa sudah. Satu remark, USS patut buat jalan berbumbung kat sini memandangkan selalu hujan. Sangatlah rasa uncomfortable nasib baik takde pacat hahahah. So masa hujan ni kids kat waterworld. I tak join dah takde mood hujan macam ni. Rayyan plak taknak poncokat stroller dia, dia nak main hujan.
lepas tu kita ke Far Far Away (cakap bisik macam Shrek)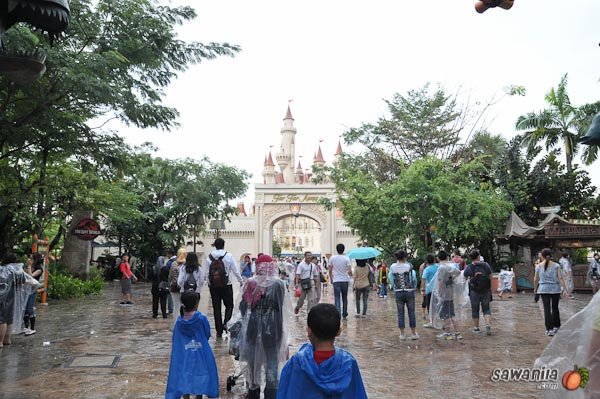 Ada macam dalam citer Shrek tak???
Say hi to Shrek and Fiona… kiterang tak bergambar pun, bebudak taksabar nak ride ke benda. Oh dorang naik naik roller coaster. Best naik roller coaster ni, I saja sakat Afriena,
Afriena… I am so scare... sambil gigil
Pastu Afriena cakap.. mama relax mama, don't be scared. If you scared, you scream… argggggggggggggggggggggggghhhhhhhhhhhhhhh.
Sampai habis roller coaster dia yang scream.Bukan mama dia.Yang mamat kat belakang pun pekik siap cakap..geli perut aku…hahahah. Lepas roller coaster, kita pi masuk 4D Shrek. best gak boleh rasa angin bersin donkey, rasa terbang.. tapi for those yang pernah pergi Disneyland, mesti dorang kata biasa je… sebab, 4D kat sana, siap ada bau makanan rasa macam lagi real la. ANW, this one shouldn't be missed.Keluar dari 4D ni, I terserempak my MIL nye kawan. Dato Fatma Azzahra yang dalam rancangan Ar Rayyan (idea letak nama rayyan pun dari rancangan ni lah). Lupa nak bergambar, sebab too excited. Just bersalam then cakap selamat hari raya. Dia datang dengan husband and anak-anak. Lepas habis Shrek kita ke Madagascar plak…
Sambung later ye.