Masa kat Malaysia lagi kiterang dok carik/google makan yang boleh mkn kat Hong Kong. Lucky Kheirul's sister help us alot. FYI, dia pernah dok sana so she knows. So sesampai jer Hong Kong, Check In terus kiterang pi Islamic Centre for makan-makan. Oh ya jangan lupa sembahyang, walau dok kat mana pun kena sembahyang ok.
ngam ngam, sampai kul 2, perut dah lapr giler nasib baik bebudak ni dah makan coklat on the way. Sesampai jer tengoklah berapa ramai orang. mostly muslim. Alhamdulillah…..they are from Pakistan, Indonesia and Hongki itself. I think I saw Singaporean overthere
actually ni bukan restoran, tapi cam kantin la… kat tingkat 5, tingkat 2 and 3, tempat sembahyang… Kantin dia very clean.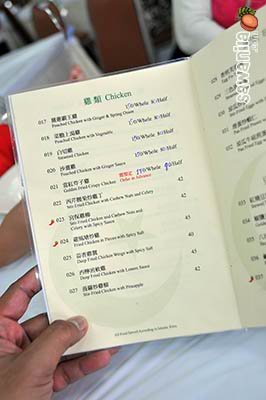 Apa lagi…. kite order la… tapi dah byk makanan yang dah abis sbb dah kul dua. dorang tutup pukul 3. So kalau you all nak pi pergi awal sikit.. apa yang kiterang order… tgk kat bawah
Rice with minced meat : Ni Afriena yang request nak rice so order for her. tapi bila meal dia datang, huis mak Afriena pun tak leh abis punya la besar. Kiterang share 4 org. habs gak makan. Rice dia rasa cam nasik pulut sikit, mince meat dia so tender, mcm melt in mouth and the gravy I think they use oyster sauce.. sedap..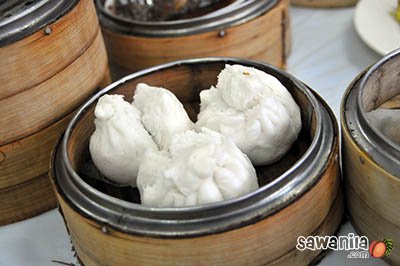 Chicken and vegie pau: Ha… ni Ashraff and Afriena jerit cakap mantau…then the waitress cakap..ni bukan mantau tapi dorang tak puas hati cakap tu mantau. dorang cakap mandarin, wautress tu balas bahawa Cantonese… pening makcik… Pau dia biasa je rasa tapi inti dia sedap sebab daging ayam ketul besar Sioookkk. and Inti dia kaler hijau sebab dia sayur dan ayam…. wahhh mau nangis bila ingat pau dia…. papa kiter pi lagi sekali ok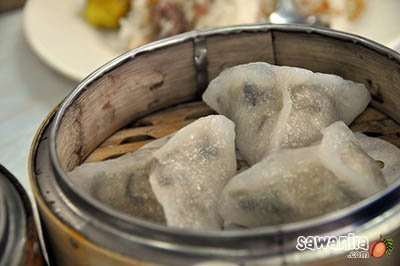 Ha ni plak, mushroom and chicken dumpling… tengok lah dumpling dia besar gedabak… masa ni kalau you all gigit dumpling tukan… semua juice dia akan meleleh keluar… yang ni I makn 2, ashraff makan 1, Kheirul tak leh makan mushroom so tengok jela
Hi ni special… I tak pernah jumpa kat KL, ni pulak egg plant dumpling. Dia letak isi ikan dalam terung. selalu kite makan yong tau foo ada lah tapi sbb dia pakai light soy sauce and dia steam plak tuh… tu yang sedap.. meleleh beb juice dia masa makan tuh… air liur pun meleh masa tgk ni benda…rasa dia manis -manis terung… sedap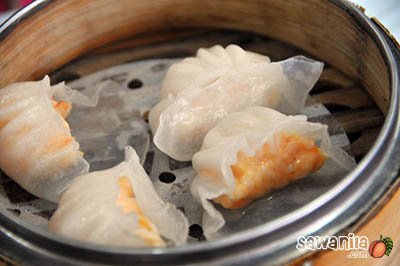 Ha ni plak shrimp dumpling…. Dia pakain udang medium size. sedap very juicy. Dalam tu ada 4 ekor udang M size. Rasa dia cam udang la… hihih very sweet….
Ha… yang ni lagi best…. meatball…. very juicy, daging dia berasa and very tender.. cam bila masuk mulut tuh terus cair… besar gak la besar sikit saiz bole ping pong kot
Ha tengok ashraff camner dia makan… punya banyak dia makan…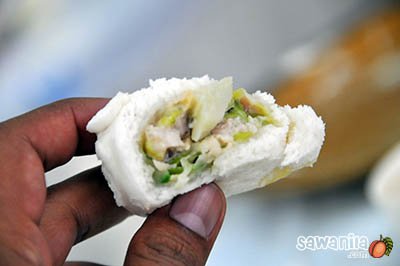 Ha tu pau nye inti…sedap..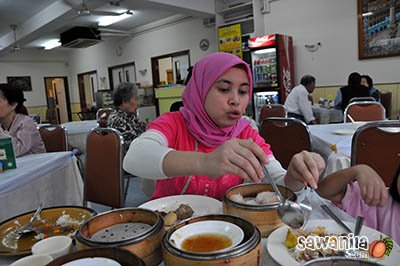 mulut muncung tuh sebenarnya nak mengambarkan betapa sedapnye makan kat situ tanpa rasa was was…
So kiterang nye makan byk tuh termasuk Chinese tea berjumlah HK$90++ murah kan???
pas tu apalagi pi sembahyang la
How to go to Islamic Center???
Kalau nak pi sana… take MTR ke Wan Chai.. then amik taxi ke Charter House Hotel. Islamic Centre tu just behind Charter House Hotel Wan Chai Rd. The canteen is on the 5th floor.
NOTE:Kalau nak makan dim sum yang sedap dan halal kat KL, boleh pergi ke Hartamas food court depan uncle Don sebelah ngan balai bomba… sedap gak
Sekian……..