Lama tak bersiaran… Busy dengan Michiko. Dia Kan miss serba nak amik tau. Baru nak pegang komputer/notebook dia pun datang nak tekan² keyboard pastu dia tak suka main toys sengsorang, nak kena teman..adehhh
Last 2 Fridays, pagi sebelum kerja cik suamu cakap dia nak makan Fish & Chips. Then I told him alah pi je makan kat mall Yang fish market ke Benda…then dia cakap alah Tu too common, kita pi makan tempat premium lah..Yang sedap sikit…
Hahaha so APA Lagi time to jugak Google…maka jumpa lah Cor Blimey Fish & Chip. Semua good review, original recipe Dari UK. Many specialised in its own. Quality food and scrumptious.
So Lepas balik kerja je, terus ajak anak Bini keluar pi makan. We went to Hartamas branch, Kira paling dekat lah ngan rumah. Sampai je masuk and order. Susana restoran sangat tenang, tak Ramai orang and hiasan dia bagus untuk anak² belajar nama² tempat Di UK. Sambil belajar nama tempat², kejap je dah siap order. Sempat lah jugak saya pi toilet. Toilet dia 5 star bersih, intai daput, daput pun bersih. Being me Yang cerewet Kan semua nak check. Hahahah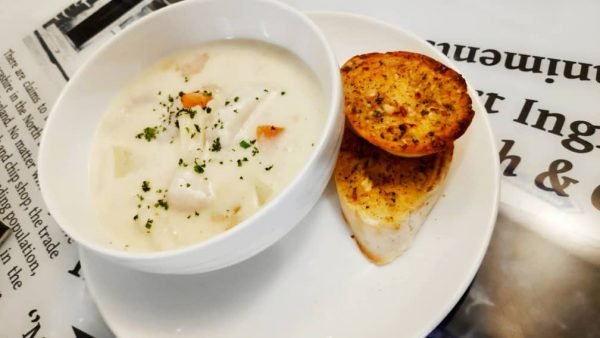 First Yang sampai adalah seafood chowder. Ni Michiko punya. Habis dia hidup sup ni, abang² n Kakak dapat lah menyudu sikit sorang amik rasa. Michiko cuma tak makan ikan, udang n sotong je dalam Tu. Chowder ni sedap, Ada sotong, udang ,fish fillet n some vegie. Cukup lemak berkrim. makan plak Dalam restoran Yang sejuk beku.cicah plak garlic 🍞. Set ni harga Dalam RM15.90 kalau tak Salah.
Yang ni Kheirul punya. Dia order Haddock. Ikan ni imported from UK. Satu set macam ni dalam RM 44.90 kalau tak Salah. Batter pun boleh pilih. Dia pilih garlic herb rasanya. Side dish dia boleh pilih jugak. Rasa dia? Senyap je dia makan. Tapi last half Tu baru dia nak share ngan Rayyan..hahaha sedap giler ikan ni Manis but ISI dia Rasa tough sikit. Nampak cam kecik Kan.. tapi sangat mengenyangkan. Chips dia kat bawah tu banyak giler..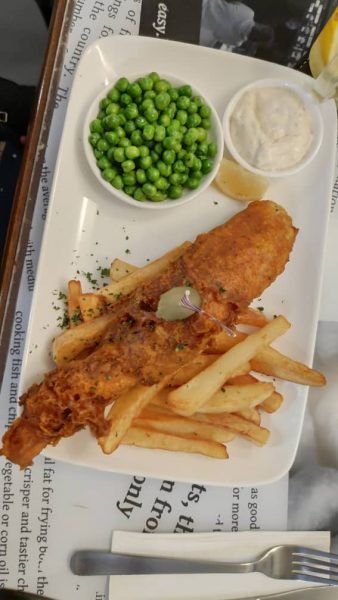 Ashraff, Afriena n Rayyan order dory. Tapi berbeza batter. Ashraff pilih lemon herbs batter, Afriena plak pilih curry batter n rayyan ambik original. I seldom eat dory sebab tak suka but for this one memang sedap. Next time kalau pergi nak pilih dory plak.. Ini fish n ' chips Afriena punya…batter dia sedap ok.
And last one is mine. I ordered Cod Fish. Premium selection , imported from UK. Cod fish tak yah citer lah memang sedap. Manis ikan. Kena plak ngan side dish Mint Mushy peas. Jadi bila makan tak rasa muak lah. I only larat makan satu je .Lagi satu keping kena share ngan anak² sbb my space dlm perut sudah kecik. I chose lemon herbs batter.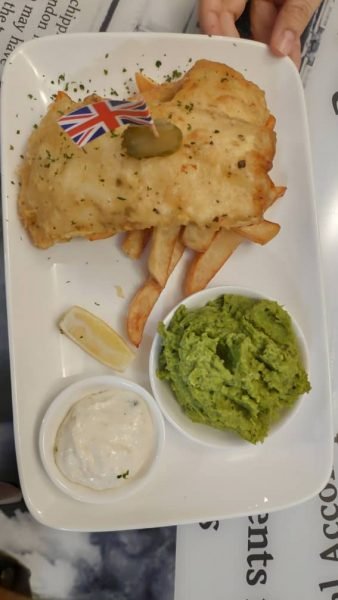 Kalau Tanya nak pi lagi ke tak? Off course lah..kena try fish burger, family feast..banyak Lagi. Lagipun restoran dia tak Ramai orang tenang je. Makan kat Sana pun feel dia macam dok oversea dah ngan air-conditioning Yang sejuk hahahha…pekena plak mint lemonade. Kena pi masa birthday plak..
You all Google lah ye for more info. dia Ada branch kat Hartamas, Uptown and Subang kot. Muslim friendly, takde alcohol incase you wondering.