Tapak Khemah : H&n Campsite, PD
Masa Pacak: 11 Dec – 13 Dec 2020 3H2M
Sewa Tapak : RM 38 satu malam , untuk kanak² ada tambahan sedikit.
Jenis Khemah : Khemah Unta saiz L
Bilangan Ahli : 4 dewasa , 2 kanak2 , 1 bayi comel
Kemudahan:
Parking dalam kawasan, macam kami 10 langkah je dari khemah
power source : boleh tarik cable .. caj tak pasti sebab kami bawa power box hasil ciptaan encik suami yang sangat berbakat.
tandas Dan bilik Mandi 3/5 . Kena Kasi sental sikit dinding sebab berlumut, pintu toilet perlu baikpulih, sbb susah nak kunci, nak termenung Tak tenang.
Sinki ada dua, memang kena Kasi sental..berlumut. tong sampah ada tersedia
Pantai: 4/5 boleh Mandi, anak2 kecil boleh main air Dan pasir. Selain dari tu malam boleh tangkap ketam Dan boleh jugak cari kulit siput masa air surut. Boleh memancing, mancing depan khemah je time air pasang,
Pemandangan? Sangat priceless… boleh layan sunset, sunrise .
Suasana, panas berdenting di tengah Hari, tapi berangin, kadang hujan, kadang berangin kuat. Waktu air pasang, angin kuat,ombak cantik, boleh layan ombak, time ombak tinggi sikit, percikan air laut boleh sampai depan khemah ( kami pacak khemah tepi tebing) Time panas bedenting tengah hari, kami masuk kereta pusing PD, singgah bungkus cendol kat Famous Cendol Port Dickson.. bawak balik minum kat khemah. Bayangkan sejuk je cendol lalu dalam tekak.
Overall kami bagi ⭐⭐⭐⭐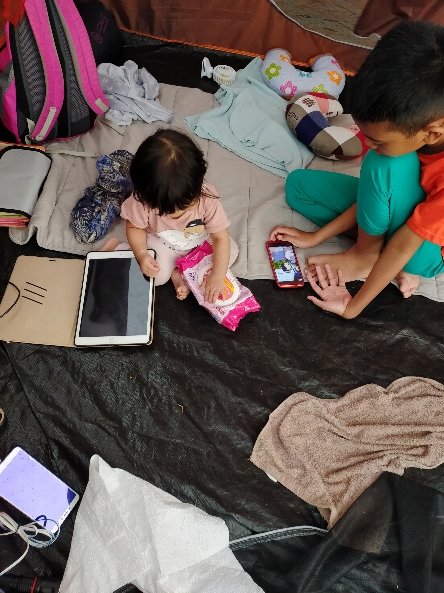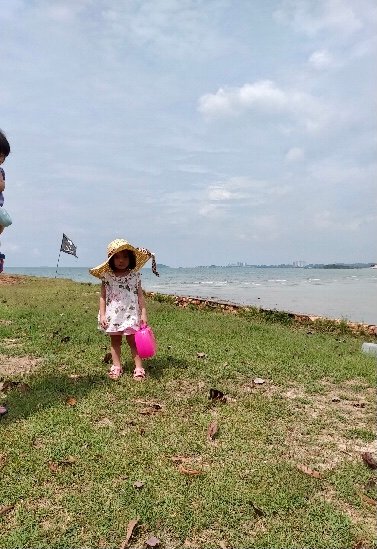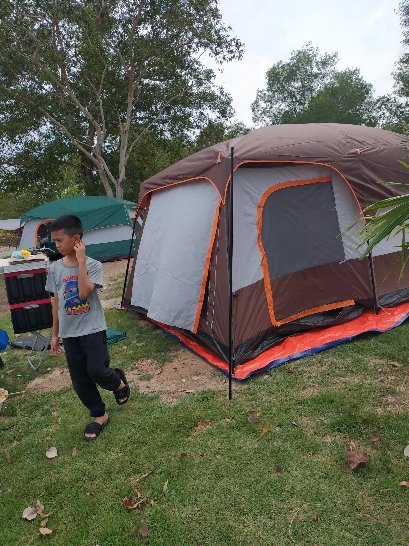 Menu untuk perkhemahan kali ni
Day 1
Lunch -Sampai je, masak maggi.. sepatutnya bungkus tapi malas nak keluar, malas nak masak sbb baru settle pasang khemah.
Dinner – Sup Ayam, nasi putih, telur dadar dan ulam
Supper… makan biskut ciak air milo. tak kuasa nak makan, best tidur awal dalam khemah
Day 2
Sarapan -Big breakfast – sausages, baked beans, saute mushroom , scrambled egg, toast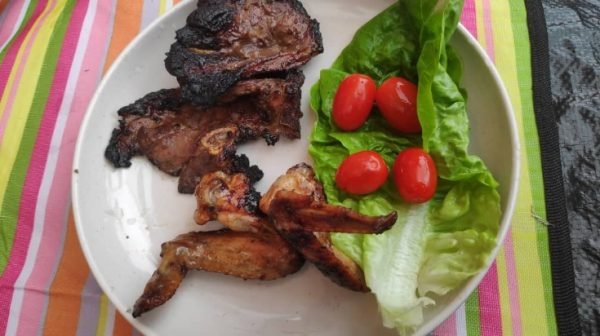 Lunch -BBQ – chicken, lamb and salad and cut fruits
Tea time – Tapau cendol pulut, makan sate
Dinner – Percik Ayam, Nasi putih, telur dadar dan salad
Day 3
Sarapan – maggi kari, french toast, milo
Seriously, masa camping memang kena bawak banyak makanan sebab perut asyik lapar je. Kami juga bawa sikit titbits, air kotak, fruits . Maggi kalau makan masa camping serious sedap dia lain macam, padahal kat rumah , I tak pandang maggi pun.
Semua makanan yang nak dimasak, kami rancang awal, siap cuci, perap dan pack. Sayur cuci sesiap sbb senang jimat masa. Rencah untuk masak pun , I blend sesiap. Masa camping nilah boleh ajar anak masak. Okey letak itu letak ini, masak nasi..ok tengok keluar wap tak.. Tak suka leceh leceh masak time vacation.
Looking forward to next camping vacay
Insya Allah, semoga apa yang kita buat sentiasa dirahmatiNya.
Ameen