Alhamdulillah..
Masa tengah tulis blog ni, dah 19 Hari berpantang. I selamat melahirkan a baby girl pads 7 Dec 2019. Tak sangka, 5 orang dah anak.
2 lelaki
3 perempuan
Kali ni pregnant, mmmm macam biasalah morning sickness dia. Kerja dok muntah je. penat teramat masa t7. Dah lah Masih breastfeeding si Michiko. Tapi Lepas Raya puasa Hari Tu dgn sendiri jugak dia stop breastfeed. Morning sickness Yang sangat menduga sampai berat pun turun 10kg. Tapi bila nak bersalin dia Naik 10kg balik menjadikan 58kg.
On 6hb Tu dah mula Ada Rasa sakit tapi tak sangat tapi sbb EDD dia adalah 7 Dec, so nak tak nak kena ke hospital mendangkan Hari Tu adalah Hari jumaat, Hari Yang penuh dengan ke jem man kan…so sampai ER kat Thomson Hospital, dorang suruh duduk wheelchair, I cakap…sya boleh jalan lagi.
Terus pi Labour room, buat check up..baru 3 cm je. 5api doktor kata kalau confident nak balik..balik lah tapi dia advise suruh admit sbb 2 tahun Lepas, cuma 30 mins sakit terus bwranak. Takut tak sempat sampai hospital katanya.
So..admitlah kita sambil layan sukan sea, sambil lepak sbb keluar masuk toilet buang air..i knew..baby dah turun kepala tapi sbb tak sakit kan.. hoping that Kali ni tak payah induce MCM sebelum² ni (kecuali Afriena).. while husband balik hantar the 2 girls. And he came back Lepas maghrib kot. Kesian anak². They look after each other Malam Tu. Kejap² call Tanya ok ke tak.. Alhamdulillah
Ok makanya..pukul 1.30 dah Rasa sakit 30 minit sekali..lepas Tu pukul 2 kot 15 minit sekali.. pastu 5 minit sekali. Lepas midwife datang check buat VE dah 8cm. Maka berkejaranlah mereka call doktor suruh datang. Haih kesian kerja doktor Kan Malam pun kena kacau. Sambil tunggu doktor sambil layan sakit Lepas Tu sedut vape..eh bukan sedut gas ethonox. Siap offer kat Kheirul hahaha nak Rasa tak. Boleh gelak² Lagi Tu. Tina time nak meneran..Haih punyalah susah budk kecik ni nak keluar. Sampai Rasa nak give up dah. Nasib baik Ada suami tercinta bagi semangat Dan cintanya sekali… Rupanya baby terdangkut bahu dah.. sebab selalu bila baby dah keluar terus Rasa wah leganya..tapi Yang ni kenapa Rasa sakit. Midwives pun jadi pompom girl..ok puan ..nanti push..
Ok 1,2,3 push… huhu sambil nangis cakap..tak boleh..penat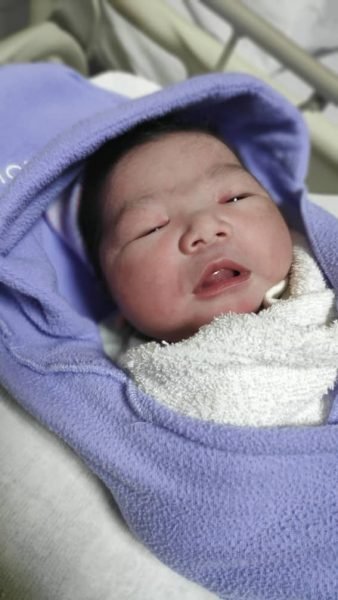 Takpe sekali lagi..doktor plak..push dgn keselesaa puan..
Pompom girls pun 1 2 3 push
Terus keluar dgn bersembur darah.. fig lega MCM sembelit Yang sangat besar.. Lepas Tu gua dah ingat..Yang gua ingat gua layan vape..pastu Ada budak tembam tengah nangis.. Lepas Tu dengar azan n iqomat..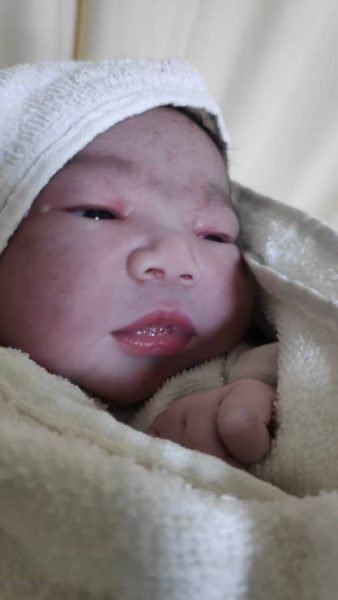 Alhamdulillah..semuanya selamat, walaupun kalini bersalin boleh dinobatkan the longest battle ever. This time, the baby sangat besar. 3.68kg. makanya berat masa Hari bersalin dlm 58.85kg. fuhhh..lepas bersalin terus Rasa kurusnya aku..
Dlm 5 orang anak..ahe is the biggest.. lain anak lain pengalaman bersalinnya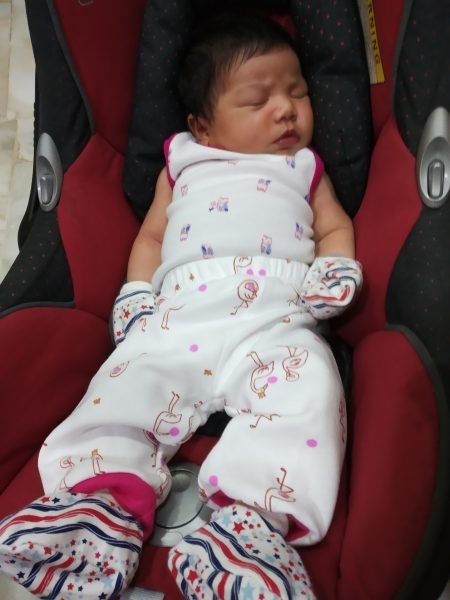 Semoga anak² Kami Akan jadi anak Yang soleh/ solehah Dan semoga Kami menjadi ibubapa Yang soleh Dan solehah buat mereka❤️❤️❤️