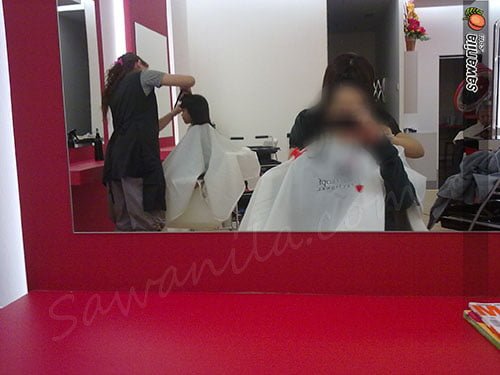 Rasanya adalah 3 tahun tak ke Salon. Sejak pakai tudung, me no longer berkunjung to Salon memanjakan rambut.Dulu  mesti ada je… kejap pergi rebondinglah… kejap pergi perm la.. kejap color la..kejap buat highlightla.. just imagine banyak gak duit habis. Geleng kepala husband bila I told him I spend more than 5oo buat treatment. Hahah few years ago.Now no more.. membazir betul I dulu rasanya
So last week, was my first time ever pergi Salon. I pergi kat KB Mall since susah sangat nak cari yang tertutup punya salon. I pergi dengan Afriena while the boys lepak tempat game. Punyalah banyak Salon kat KB Mall….Satu jer I berkenan. I pergi potong, cuci and treatment sikit. Total is RM50. Murahkan!!!. And peneman nye… Afriena and dia pun mintak nak trim rambut. Asked her, nak cuci tak .. dia cakap tak nak.
Nanti next balik KB nak color rambut plak. Boleh tak suamiku???