Nak kongsilah jugak majlis Cukur Jambul dan Aqiqah Arrayyan. Majlis start pukul 5.30 pagi lagi. Pukul 5.30 gitu kena pergi ke Masjid Pulau Melaka jumpa Tok Nik untuk buat cukur Jambul. First time jumpa dia, he is so humble. One of tokoh politik yang I segani adalah dia.Sorry gambar blur sbb perempuan tidak dibenarkan masuk only lelaki. Ramai pulak nak jumpa beliau untuk cukur jambul anak.I snap pun pakai hp jer.
Lepas tu , after cukur jambul, balik ke rumah balik for afternoon preparation. Pukul 10.30 orang dah start datang. Ramai betul maybe around 80 ladies. They performed sembahyang hajat and baca yassin.
another hall pun ada orang gak
Ha ni plak bunga telur untuk diberikan pada muslimat
Bunga telur campur-campur. Bunga telur masa I kahwin dulu pun ada. Kaler purple. BUnga dip yang dibuat khas oleh suami tercinta.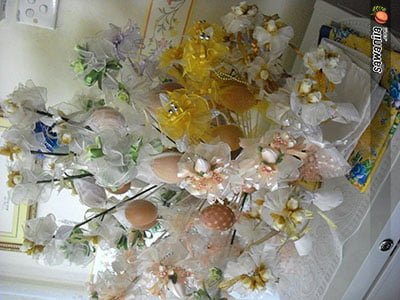 The desert.. ada buah honeydew, tembikai, kuih lapis and pulut kuning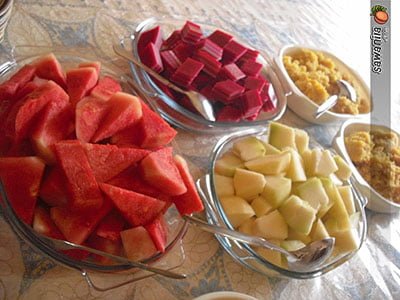 Lauk pauk yang sangat banyak. Ada Gulai kawah kambing (mmg sedap), ayam percik, lemak kuning ikan rebus, soolok lada, acar timun, sambal belacan
Ha ni, time selawat. Selawat dorang buat lepas sembahyang zuhur.Simple gier Rayyan, sepatutnya dia kena pakai alas songket, tapi dekat nak selawat dia poo plak so kena angkut cuci and tak sempat nak hensemkan dia. Takpelah… mungkin Rayyan adalah seorang budak yang simple kot.Gambar pun blur sbb too many people nak menyelit susah…
ANW, alhamdulillah semua berjalan lancar. Lot of thanks to my MIL, SIL, HUsband, my mom sebab byk buat kerja and off course jiran-jiran yang datang tolong. And off course myself. PEnat giler mengalahkan kenduri kambing.