What a very disappointed new year eve for more than 100,000 people in Putrajaya including my family when the event that everybody looking for was not happened.
I was there since 9:30pm and it was terribly jammed and to find a parking space is almost impossible. Luckily at 10:45pm I found a spot to park my car very near to the bridge and I think that it was a good spot for capturing a few snaps especially the fireworks show.
The crowd has started raised and it was really packed, the road was stalled… can't move at all…. everybody just parked their cars besides the road and it make things more worst.
The frustrating moment when Pak Polisi announce that there was NO FIREWORKS SHOW in Putrajaya around 11:30pm… and everybody was tercengang…. wasting our time and effort and cant go anywhere because the road was stalled.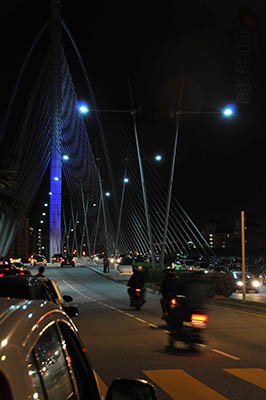 At the end.. we have to wait until the crowd started to move out… it was around 12:30am and we straight went back home…..