Hah.. ni bapak dia yang tulis posting kali ni plak…
It was the 1st Jan 2009…. and it was the first shopping of the year.
We went to Ikea……. biasala kan.. hari cuti.. the biggest problem is to find a parking space…. punye la susah.. dekat 14 kali pusing baru dapat…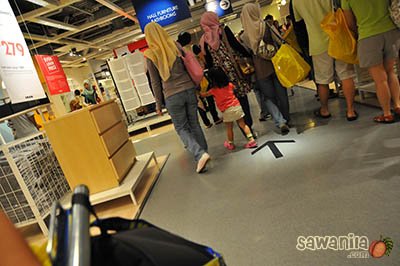 Punye la ramai orang.. sampai nak jalan pon susah…. seperti biasala.. dua beranak tu dok try tu … dok try ni….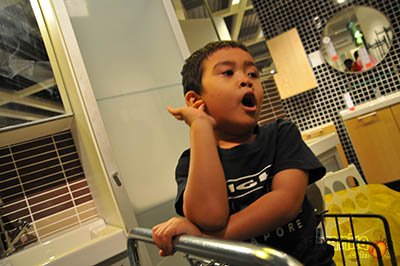 sampai Ashraff pon dah menguap dah.. sebenornye Ashraff ada fever skit.. badan dia ada panas skit.. sbb tu la dia kurang hyper hari ni.. kalau tak… terbalik Ikea dibuatnya…
Hah.. yang ni sebenarnye tujuannye… nak cari tempat cam almari cam ni la.. nak simpan barang barangan bebudak tu…. so.. bungkus satu sama ngan kotak kotaknya sekali… kakakakaa
Pas tu plak.. pi bahagian carpet kat bawah plak… punye la susah nak cari yang berkenan.. ada yang berkenan.. harganya plak plak ribu riban…. last last amik ler gaks yang special offer harga dari RM599 jadik RM399.. so boleh la…
Masa nak bayar plak.. ingatkan skit jer amik… last last terbang gaks la 726 hinggit tunai…………