In The Eyes Of My Cam… Nuffnang Friso Family Day Out @ Kizsport One Utama..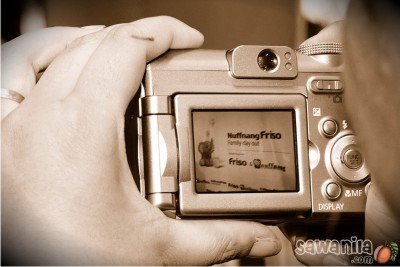 These are the wonderful pics taken from the event…..
9:40am…. reached One Utama and straight to the registration counter. We thought that we were late.. but when we arrived there we were the among of the early birds who registered….
As usual… the princess needs some hair works after changing the free Nuffnang T-Shirts….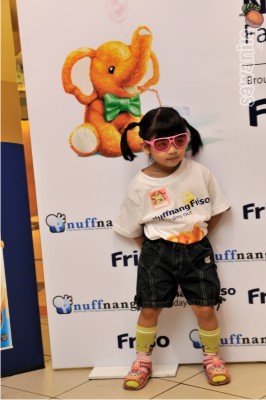 hehe… posing macam pak guard Istana Negara la plak…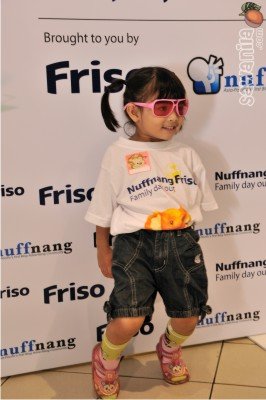 Posing lagi…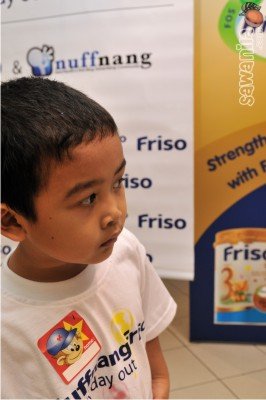 Ashraff…look adik…
Don't look at me…
at around 10:00am… more and more families came in…
masuk-masuk jer terus pi racing….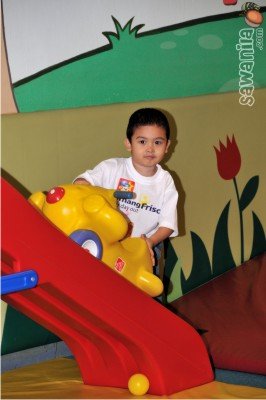 alamak… terbabas plak naik kat slider….
Ni ler muka orang yang risaukan anaknye yang masok-masok jer dalam Kizsport jer terus lesap…
Click Next for more pics….
---
Punye ler soronok Afriena… she had a very wonderful time there just now…
huh.. Afriena… macam main ski laa…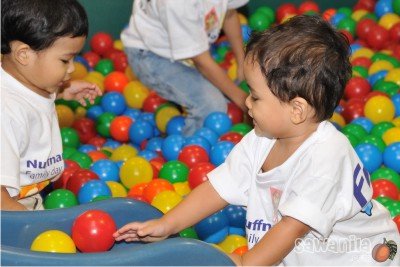 Other kids pon having a good time…
More and more families joined in…. makin meriah suasana disitu…
I like this pics… A father adjusting his cute little boy's pants
Nice smile from this kid….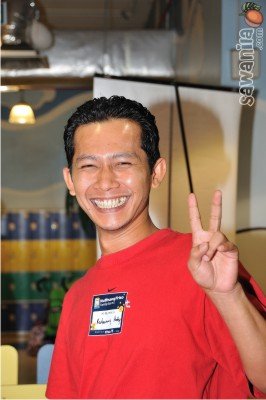 What a small world… This is Sirman from Redmummy.com.. He was my X-UiTM mates …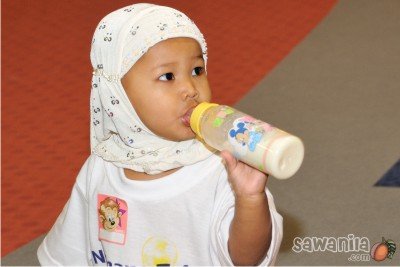 Nice cute little girl with her milk….
and the event started…this is Marcus the MC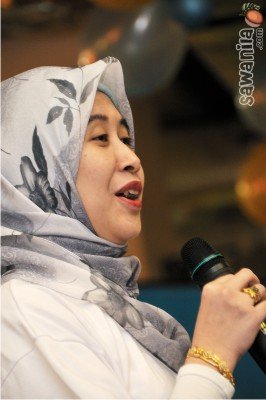 Tengku Nila from Friso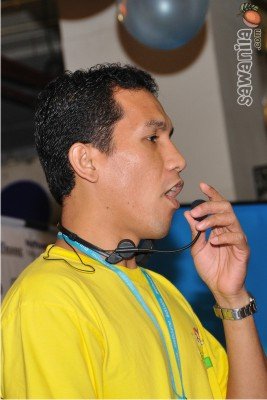 Omar – dia ni mmg pandai layan budak
---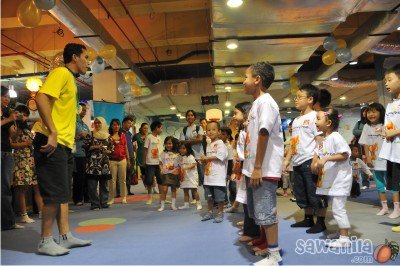 Boyz n Girlz… get ready…..
Now we clap, clap, clap…..
I like this pics…..
Sirman… What are you doing there….???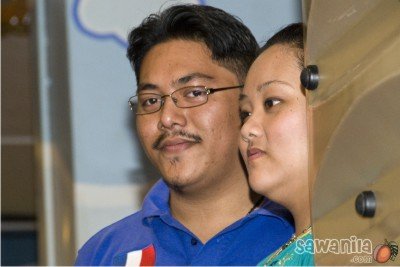 Umi Mia.. menyorok yea…
huihh… dah lentok dah…..
Colouring Time… Ashraff seperti biasa..akan cekop dulu…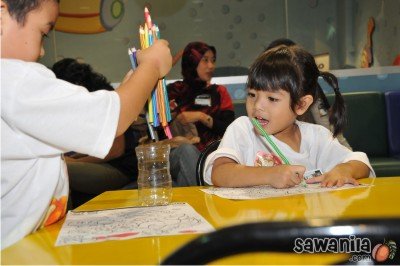 No Ashraff… Gei Wor (give me)………
Ala… comelnye…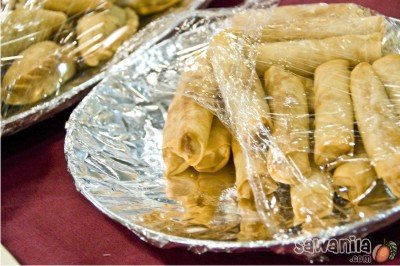 Ok… sambil-sambil tengok bebudak semua melukis… saya pon cekop ler popiah goreng ni.. sedap gaks..
Dah memang rezeki agaknya.. karipap ni memang sedap…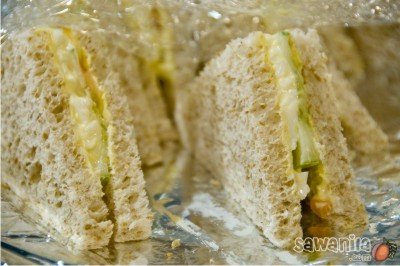 break kejap… sandwich plak lak tu… aduiiittt terangkat…
---
ok.. senyum… senyumm… control cun…
Macam ni punye style melukis pon ada.. canggihhh…
Berborak ngan Kak Eina… our guest family…..
nutrition talk…from Evon Tan
Baru makan since morning…. a hot karipap and ice latte…
Nice shot… yang ni kira ok.. sbb bukan senang nak amik gambor baby…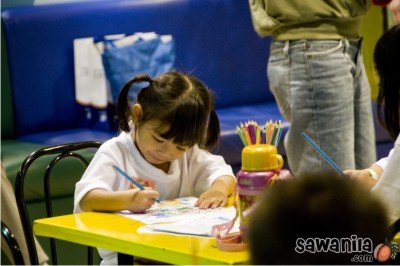 Adik.. tekunnye melukis.. sampai makan pon taknak…
Hahahahaha… Ashraff.. What are you doing???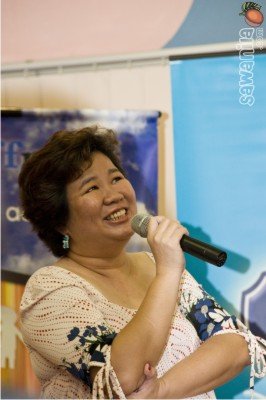 Lilian Chan giving her talk….
Khusyuknye dengor Lilian Chan cakap…
Yatie pon sama… khusyuk abis….
Umi Mia ni ada skit ngantuk.. takpe.. kejap lagi Lilian tanya dia soalan…
kan dah cakap…
---
Hah.. ni hasilnya… Afriena punye yang tengah tu…. Ashraff punye tak siap….
ni.. kalu masuk kelas art… dia panggey… abstract arts… memang susah nak paham…
Ni anak Redmummy…..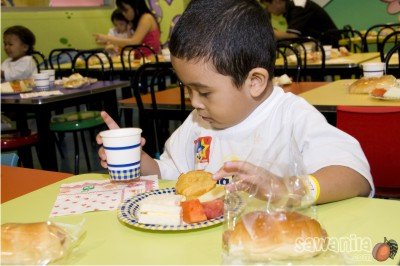 ok lunch time… Ashraf yang dok mengamuk tadi tu nak makan rupanya….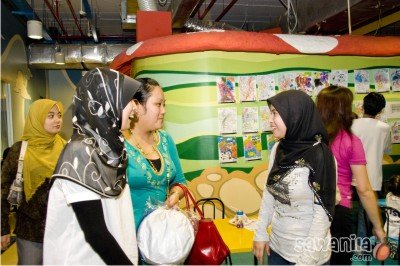 apa yang diborakkan tu ngan Umi Mia dan Shafa….
Ashraff.. kalu pasal makan.. tinggal sorang-sorang pon takpe…
Apala Afriena.. time lunch pon masih nak coloring…..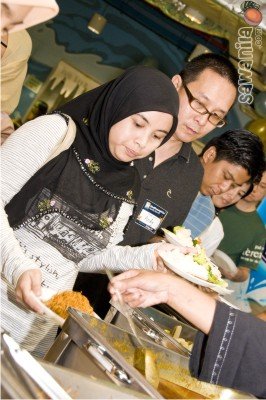 Hah…. kitaorang pon nak lunch gakks….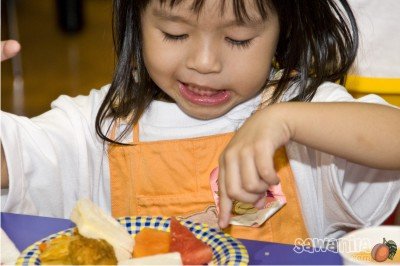 I suka sangat amik gambor kids makan…
macam-macam gelagat boleh tengok…
muka macam nak nangis pon ada….
So stay tune….. a lot more pics in short while….. or later… maybe tomorow la…
macam-macam lagat dan ragam ada…. tapi semuanya happy jer bila makan…
This is what those kids eaten…..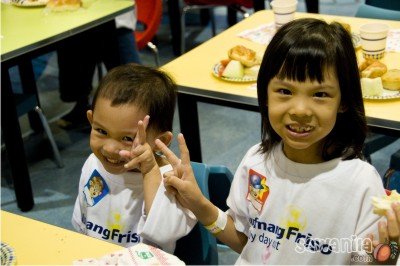 Everybody happy… peace…. sedapkan lunch tadi…..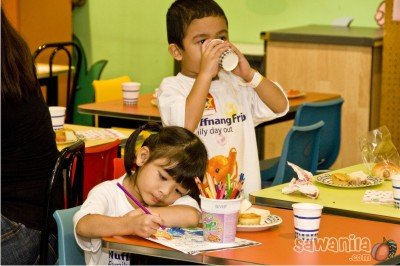 Adiiikkkk… orang dah abis makan dia dok masih lagi coloring….
---
ok.. Next session started again after a great lunch…
The kids enjoyed with Mr. Banana magic show…
another fantastic show by Mr. Banana
Ashraff ngan mamanya terpegun tengok Mr.Banana buat persembahan sampai tak terkelip mata…
hahah.. kantoooiii.. Mr. Banana pon terkantoi ngan bebudak ni…
Aksi Family di pentas….tahniah kepada family Syaiful + Nurul..
This is the winner… tapi sorry la sbb tak tahu nama.. kalau boleh tolong bagitau ye…
Kak Eina And the Kids…
Redmummy pon ada….
OK.. ni dia prize giving ceremony….. dimulakan dengan KuE..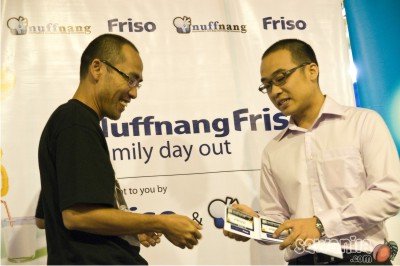 Then Ajami…..
Supermommy…
And The Grand Prize Winner goes to………
http://www.sawanila.com….We WON THE GRAND PRIZE….
Thank you to Nuffnang & Friso….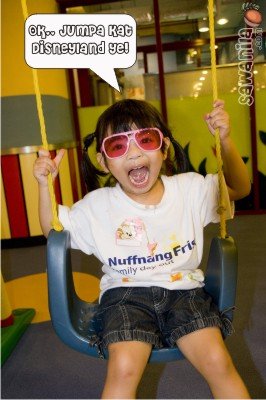 Ok.. Jumpa kitaorang kat DIsneyland Hong Kong yea…. sapa yang pesan Fridge Magnet tu… nanti bila kitaorang akan bagi…
Jangan lupa minum susu ye…..
Lastly, Thank you for Nuffnang and Friso for such of wonderful prize. We never expected this at all.we all cuma target MPH je hihi cos we know people out there lagi creative. Tak rugi la pergi walaupun sepatutnya Yatie kena bermastautin dalam dlm sepital due to her slip disc. and nice to meet all the bloggers esp Red Mummy and Lilian Chan. triple thumbs up to Nuffnang , Friso and Kizsport for such event. tell you susah nak control those kids…
For me it is quite challenging to capture photos during this event and these are a few challenges:
Very hard to get the best settings for my camera… just main hentam aja.. at last guna auto mode aja.. pasal nak cepat…
Very hard to control kids… memang susah nak amik gambor budak weh… baru je nak focus.. terus gerak secepat kilat… sbb tu banyak gambor ada skit lari focus…
I don't have a suitable lens for this event…. kalaulah ada lens 70-200 2.8 VR… alangkah baiknye… main pakai 18-200 aja.. sbb tu gambor soft aja… takde sharp sangat…
pening nak cari angle yang sesuai masa amik gambor…. memang susah nak dapat angle gambor yang tepat… yang ni kene creative…
PC lembab… susah nak buat editing….
Internet kat rumah lembab macam kura-kura.. nak upload gambar lambat…
overall…. still not satisfied….. kene belajar lagi.. practice lagi…
all pics taken by Kheirul Hisyam Mohamed a.k.a Kyoll.
Tools: Nikon D300, Nikkor AF-S DX 18-200 f3.5-5.6G-VR, Nikon SB-800, Tamron 17-50mm f2.8 XR Di II, and a very strong arm.

NOTE: anybody who wants high resolutions pics, please email to support@sawanila.com and please mention the filename (NFxx)… We will email to you free of charge…..
To get the filename..right-click save as… or view image