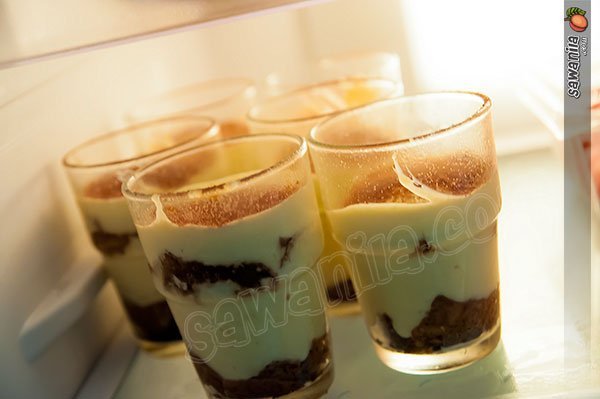 First time ni buat tiramisu. Buat ni pun sebab untuk celebrate birthday suami yang tercinta. heheheh. Sekali lagi.. Hippy Birthday Suami…Sorry lah takde hadiah pun. Isteri takde duit la. Isteri hanya mampu buat kek dan dinner je. Since tengah hari lagi I dah start buat tiramisu ni. Resepi kastard dia I guna dari  Joy Of Baking. Dan untuk base I guna cake biasa celup dalam nescafe. Tak guna pun crisp ladyfingers tu. mana mau cari. malas nak keluar dengan Rayyan pastu balik pastu keluar balik. Siap masak kastad, kasi sejuk then baru assemble. Masa buat kastad…umm sedap baunya. FYI… kat resepi tu cakap guna RUM tapi I tak guna sbb haram…tukan alcohol. I baca …Rum tu boleh ganti dengan jus apple atau nenas. I tak guna pun. mula-mula ingat nak letak rootbeer je dalam kastad tu hahaha… suka hati je kan.
Sapa kata buat tiramisu susah? senang je rupanya. Lepas assemble, simpan dalam fridge untuk 3-4 jam. Bila nak hidang ayakkan serbuk koko atas dia pastu boleh lah santap. Afriena makan banyak la.  Biasalah perempuan… mesti suka dessert kan.
Resepi Tiramisu cara saya
Cream Filling:
1 cawan susu – bahagi 2
1/2 cawan gula (saya kurangkan lagi dalam 2 sudu)
2 sudu tepung gandum
3 biji telur kuning
1 sk esen vanilla
2 sudu butter
150g cream cheese – mascaporne takde dlm peti sejuk
Base 
sponge cake
Coffee Soaking Syrup:
1 1/2 cawan nescafe pekat
Topping:
Cocoa Powder for Garnishing
Cara buat kastad
masukkan separuh susu dan gula dalam periuk, kacau dgn api kecil.kacau sampai nak nampak mendidih tapi bukan mendidih. Sementara tu pukul telur  dgn susu, gula dan tepung dalam bekas yang lain . Bila susu nak mendidih.tuang kan susu tersebut kedalam mangkuk yang berisi campuran telur dan kacau hingga sebati. Lepas tuanglah campuran tadi dalam periuk dan kacau hingga pekat. Bila dah pekat dan takde ketulan, tutup api dan masukkan esen vanilla dan butter.  tutup kastad dengan plastik wrap dan simpan sejuk selama 2 jam atau lebih.
Bila kastad dah sejuk, keluarkan dari peti sejuk. Dalam mangkuk lain kacau keju krim hingga lembut dan sebati, lepas tu baru masukkan castad tadi dan kacau sebati
To Assemble
kacau kopi dengan air panas. rendam sponge cake dalam air kopi lepas tu transfer dalam gelas comel-comel. pastu isikan kastad. buatlah berapa lapis yang anda suka. bila dah selesai kerja assemble, simpan tiramisu dalam peti ais. Bila nak makan ayakkan serbuk koko. kalau ada buah berry boleh la letak.
Sekian sahaja resepi saya..anak dah nangis. Memang dia takleh tengok mama dia dok ngadap PC.