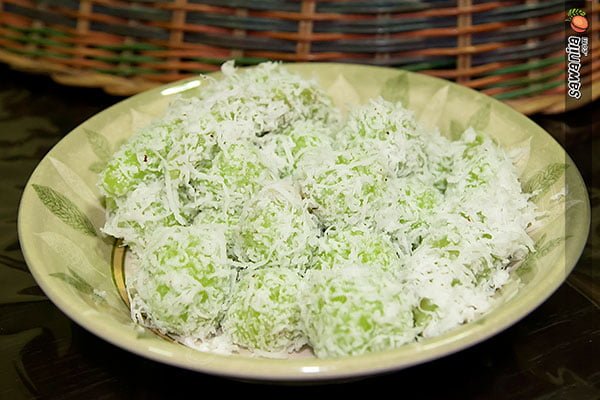 First time rasanya buat onde-onde, selalu kalau nak makan tunggu balik kampung je tak pun beli. Tapi bila beli most of the time , mesti ada yang tak kena. Gula melaka sikit, kelapa dah masam, or just hampas kelapa. Kali ni buat sendiri. Ajak Ashraff and Afriena join sekali. Suka la dorang kalau dapat buat kuih. BUat sikit je, secawn tepung pulut. Kelapa plak, Kheirul pi cari kat pasar. Tak berapa muda but oklah…
Nak buat ni senang je, uli tepung pulut dengan air. Untuk colouring, I tumbuk (tumbuk you) daun pandan, pastu campur air sikit + sikit pewarna hijau then uli lah samapai sebati. Nak tahu camner dah sebati, bila kita uli, tepung tak lekat tangan atau bekas. lebihkan sikit air, supaya dough tak keras and bila dah masak, onde-onde tak keras. Dia akan lembut kenyal. Gula melaka plak, I pakai yang MIL bawak khas dari kelantan. Wangi gula melaka dia. Time nak rebus, I rebus air dia dengan daun pandan supaya, onde-onde tu bau wangi. Tapi sebelum merebus tu sediakan kelapa parut dulu. Gaul kelapa parut dengan garam, pastu kukus kejap, supaya nanti kelapa tu tak cepat masam,
Rebus onde-onde tu sampai masak. Nak tau macam mana dia dah masak? Bila kuih tu dah timbul… tapi jangan angkat terus tunggu 2-3 minit, kasi gula hancur. so bila kita gigit.. piungggg gula tersembur kat orang depan kita…. Angkat panas-panas letak atas kelapa golek-golek kan dia, jangan sentuh pakai tangan, guna sudu (takut cepat masam) then transfer ke pinggan lain.
Bila dah dibantu ni, cepat kerja tapi macam-macam bentuk onde-onde I dapat sampaikan Rayyan pun merajuk sebab dia takleh join.Bangga Ashraff and Afriena dapat makan kuih yang dorang buat.Since ni buat masa puasa ke dua, Hari ketiga dorang suruh buat lagi :)