You all pernah buat fishball sendiri? Dulu I rajin la buat masa Ashraff n Afriena kecik-kecik dulu, maklumlah Maid jaga anak, so I kena make sure semua makanan adalah selamat untuk di makan, Dulu masa ada maid, penat sama je dengan takde maid, pagi dah bangun sebab nak masak lunch untuk budak  2 orang tu sebab I tak percaya maid masak  untuk anak-anak. Every morning mesti masak, Buat sup telur, sup sayur, mihun sup dan macam-macam sup lagi. One of their favourite adalah fishball soup. Fishball buat sendiri. senang je.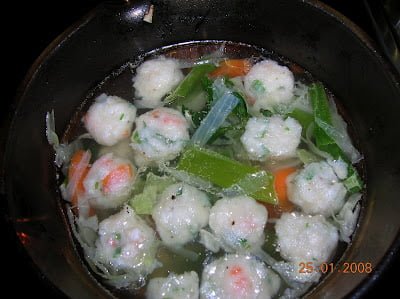 I buat fish letak sayur siap-siap, so dorang nanti kunyah dan telan je. Untuk bebudak yang tak makan sayur boleh lah campur sayur siap-siap plus bila dah buat macam ni, nampak lagi menarik. Buat fish ball soup pastu makan dengan alphabet pasta tak pun dengan mihun.
Resepi fishball
1/2 mangkuk kecil isi ikan tenggiri
2 sudu tepung kanji
carrot, daun bawang, daun sup
salt and white pepper to taste
METHOD
gaul semua bahan
bulatkan doh mengikut saiz kesukaan anda
rebus dalam mendidih sehinggan dia timbul. makna nya masaklah tu
Untuk lebih rasa , masa rebus tu, dalam air rebusan boleh letak, sikit daun bawang, bawang putih. Air rebusan juga boleh di buat sup, just tambah garam dan lada putih je.
Selamat mencuba