Kejap je rasa…macam baru minggu lepas beranak kan Afriena tup tup now dah nak masuk darjah satu. Last Friday, dia dah pergi Orientasi kat Sekolah Cina dia. No exam macam sekolah biasa .
Dia masuk kelas 1A sbb kelas tu ramai muslim so senang bila time kelas agama. Dulu masa Ashraff, muslim only 4 orang but this time for Afriena ada 10 orang. I cakap muslim sebab most of them anak cina muslim. Pepagi dah bangun siap nak pi sekolah. Sampai je, dia join her class then mak pak dengar briefing dalam bahasa cina (bayangkan mak pak macam kiterang ni yang tak reti cina, nasib baik Ashraff ada n me dah paham sesikit).
Tapi tak lama I lepak sebab Rayyan dah boring so bawak dia pi main kat taman mini, so tinggal Kheirul n Ashraff dengar briefing.
budak botak yang bulat
Pas briefing terus ke Kelas (masa ni I balik rumah kejap, sbb Rayyan yak yak), dalam kelas, papa dia settlekan bayar yuran sekolah. Hehehe Kheirul kata, Afriena nangis kejap sebab takde orang panggil dia duduk. Last  seklai dia duduk sebelah boifren dia yg satu sekolah masa kindy dulu.Masa ni, rambut Afriena panjang lagi, balik tu we all decide potong dia sbb rasa macam leceh rambut panjang nak cuci lagi, nak ikat nak bertudung semua…  so esok tuh pergi salon for new haircut.
Masuk je Salon, mama.. I want to colour my hair… mak aih nak pitam mama dia dengar, nak colour rambut… I buat tak dengar je. Yang tukang potong rambut tu cakap macam budak cina je, potong rambut macam ni..memang pun. Balik rumah ok lagi tak komplen tapi bila mandi, I ena marah sebab rambut pendek . Dia cakap napa suruh orang tu potong rambut dia macam boy. yelah bila mandi, memang la rambut nampak pendek kan..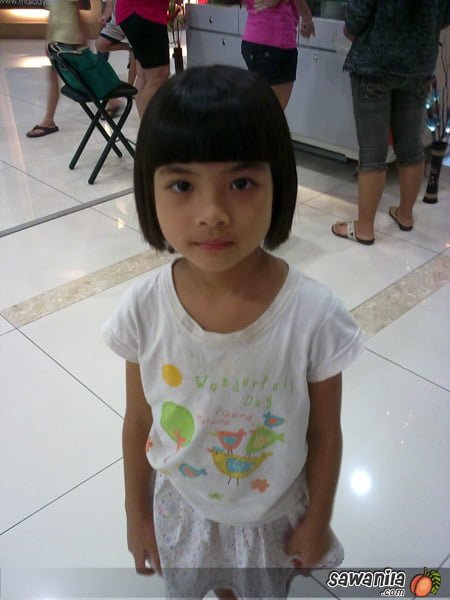 Ada rupa macam boy tak???
Ni plak..masa kat sekolah agama….. dah berapa kali betulkan tudung… rambut asyik keluar je..