Dah lama tak pi swimming…. Dulu pantang ada masa terluang terus pi swimming. Now semenjak Ashraff sekolah malas plak mungkin  dalam sebulan tu adalah 2 kali. Alasannya cuaca tak menentu. Kadang panas sangat kadang hujan. Pastu bila ada mood nak swiiming ramai plak orang. Kat sini, swimming pool dia kalau time cuti dah macam resort dah. semua sedara mara satu kampung datang swimming. pastu ramai dengan Iranians swimming. geli den. Kalau ramai sangat susah nak monitor bebudak mandi.Ahad hari tuh, bebudak ni request nak pi swimming, told them Monday morning okay. Celik mata je tak nak breakfast nak swimming dulu.Nasib baik cuaca mendung je.
Suruh dorang tukar baju then siapkan baju, syampoo towel then turun bawah. Tujuan bawak shampoo semua suruh dorang mandi kat  bawah terus so takdelah dorang sambung main dalam bilik air. hehehehhe. Rayyan plak tak nak tukar baju. Tak nak swimming kot. Tapi bila sampai bawah tgk abang and kakak dia swimming seok cakap nak ndi..nak ndi. Nasib baik dah standby short kat dia.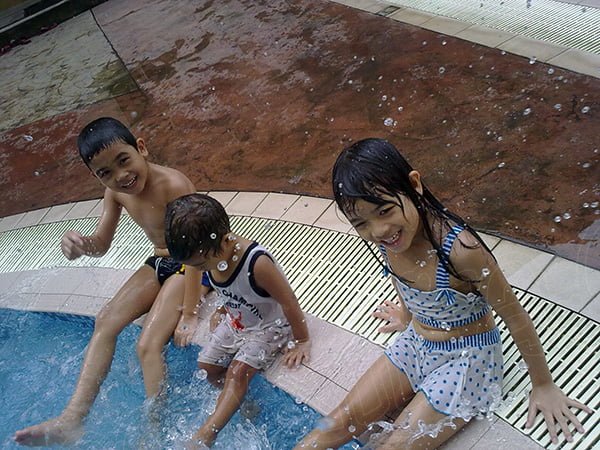 Tengoklah 3 beradik ni..seronok main air…nak nak bila takde orang sangat. Tau tak apa yang disembangkan Ashraff? Dia cakap kat Afriena..
Ashraff :Look at my leg, it's peach colour and baby brown colour
Afriena: How about me?
Ashraff : peach and brown
yelah tu membezakan warna kulit. mentang-mentanglah dia paling cerah kat situ. Nasib baik Rayyan tak paham lagi kalau tak mesti dia kecik hati.Lepas swimming , dorang mandi then pergi kedai…Kat swimming pool tu ada cam cafe tapi takde orang meniaga pun. Dulu ada gak berpikir nak meniaga kat situ tapi macam tak berapa sambutan dia.