Pagi semalam tengah dok siapkan lunch box untuk Ashraff dengan "bantuan"Rayyan, ada orang call apa nama company tah, lupa dah opisnya kat Bukit Jalil. Dorang cakap dorang ada my profile aka resume. So dorang nak interview. They 're looking for customer service position. Tapi sebelum apa-apa hal pun dia tanya expecting salary. ermmm I cakap lah sekian-sekian. Dia pun balas, oh we cannot offer that much. I said takpe (Aku dah bagi diskaun dah tuh, dalam hati cakap) We only can offer untill 3.5K jer. Tapi dia still nak interview gak. Ok lah layanlah for few minutes. Then lepas tu dia cakap ok nampaknya not what we 're looking for because we're looking for somebody experinced dalam call centre. No problem I said sebab I'm only looking for Sevice Desk position.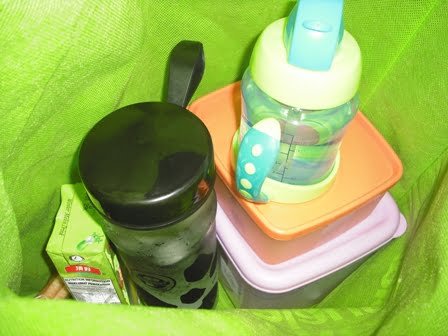 Go green!! Ashraff memang bawak bekal pergi sekolah. Both school kena bawak bekal. Senang. Kekadang dia makan sorang kekadang dia share.
Apa-apa pun, kira ada umph lagi lah resume tuh hahaha, not bad gak test power tapi I tau memang susah I nak dapat kerja dengan gaji lama. But it's okay I'm happy with my current job. Never ending job, no medical leave , no what so ever leave. But my current job is really multitasking. A mum, a wife, a driver, a teacher, a cleaner, a cook and off course good perks. Tak payah risau nak amik cuti macam kerja lama, sabab memang takde cuti pun untuk housewife. Nak cuti jer kena apply 2 minggu sebelum, sibuk kena carik member utk relief, balik opis dah pening sebab tukang relieve dah serabutkan kerja…
Yang penting, I can see them everyday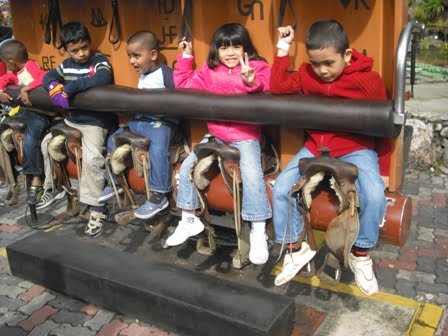 The hensem boy yang manja and little diva, eventhough every morning I dah jadi macam komander suruh cepat mandi, bangun angkat beg. Manalah mama dia tak jadi komander, semua liat nak buat. Dahlah mandi berejam.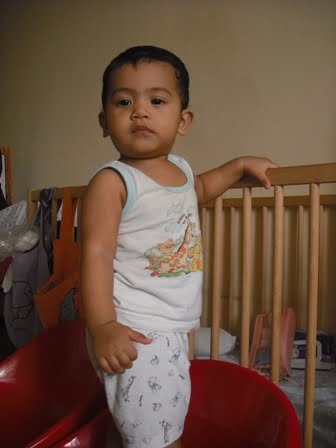 And with him around lagilah susah nak pikir pasal kerja. Dia ni selalu sejukkan hati yang marah. Cuma penat tang dia dok berlari panjat sana-sini. Having kids around, membesar depan mata, makan apa yang kita masak, pakai baju yang kita cuci, sepahkan rumah jadi kapal tongkang pecah buat rasa diri ni worth walaupun penat tak terkata.