Hari ni genap Rayyan 7 bulan. Selkkarang dah aktif. Very ektif. Badan pun nampak susut sebab asyik bergerak je. Sekarang dia dah boleh merangkak dengan lajunye. Boleh kemana-mana dalam rumah ni dengan beberapa minit. nasib baik rumah takde tangga. Dah pandai main toys yang ada bunyi. So kalau dia tekan ada bunyi dia senyumlah. Kalau duduk dalam cot, dia mesti campak mainan dia then keluarkan tangan nak ambik mainan tuh. Kalau mandi suka nak berdiri. Hobi baru dia, suka tolak kerusi, kirakan nampak kerusi, dia mesti bangun and tolak.Pastu jatuh, kalau nasib tak baik tergolek. Semalam jatuh tersembam nasib baik takde apa sebab dia mencuba untuk beri sambil lepas tanga. Cepatkan sikecik ni… mungkin dia ringan macam Afriena.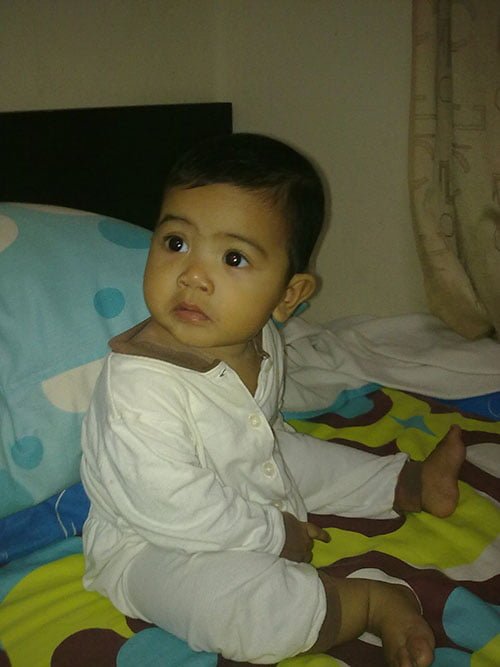 Makan, dia suka makan makanan orang. Kalau dia tengok orang makan mula la buat muka seposen. So selalu kalau suap dia makan, I pretend makan …mesti dia ingat sedap padahal tu baby food. Selain cereal, I ada jugak masak bubur nasi and kekadang steamkan apple untuk dia makan.Aktif dia buatkan mama dia susah nak buat kerja sebab kalau kena kurung dia melalak, kalau lepas dia merata pergi, bawah meja pun ada. Sekarang manja sangat, kalau I tade kat sebelah sure bangun tidur, kalau bangun tidur mesti bangun nangis cari mama. Paling suka tarik rambut kakak dia.<acam boleh panggil mama and papa sikit-sikit… gigi takde lagi walaupun dah rasa nak naik….
semoga Rayyan always sihat ye
NOTE: Thank you husband for the suprise cake…:)love it!