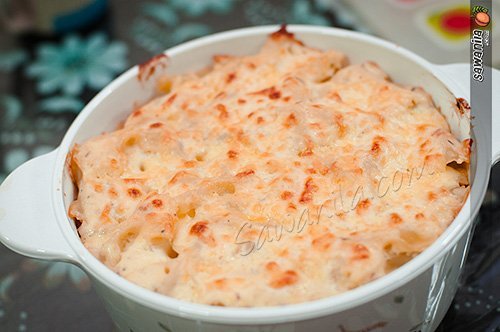 Semalam punye buka puasa was very simple. I masak baked pasta. For this ramadhan, we decided untuk makan nasi selang sehari. Bukan apa, ini adalah untuk memenuhi selera masing-masin. Selera anak-anak adalah anything but rice dan selera mak bapak adalah everything. Kalau hari bukan masak nasi, I memang suka sebab kurang mencuci pinggan mangkuk, walaupun kerja cuci mencuci bukan kerja I tapi I tak suka tengok banyak pingan periuk belanga kuali tersidai nak tunggu kering.
Ha ini adalah Baked Farfalle dengan kata lain baked bow tie. Cara masak dia macam buat lasagna jer. senang Buat white sauce and meat sauce. Sat lagi I buat lah resepi dia. Ini adalah rupa bila dah di potong. Buat sebekas besar adalagi leftover sikit untuk bebudak makan lunch nanti. Ingat nak makan masa sahur, dah tak sempat (sebenarnya tak lalu nak makan masa sahur) . According to Kheirul, dia cakap tawar… hihi for me ok dah lagipun I kurangkan garam sebab dah banyak cheese. Tapi dia bantai 2 pinggan. Ashraff 4 pinggan and Afriena 2 pinggan.
Selain baked pasta, we had onde-onde and seri muka. Beli jer tak buat pun. Onde-onde dia sedap tak amcam yang selalu beli kat param. Selalu kena tipu sebab takde gula melaka kat dalam. Yang ni kelapa pun pakai kelapa muda.
Tetiba plak ada satay semalam. Yang ni Afriena yang pow papa dia nak satay. Beli je sikit. Habis di makan oleh semua orang. Nasi impit tu licin kena sapu kat Afriena. Banyak betul bebudak ni makan and yang they always hungry.
ahhhh hari ni boleh makan nasi. Nak masak apa ek????