Inilah rupanye sup tulang merah kat Beach Road.Berminggu-minggu jugak la I dok termimpi-mimpi….2 malam berturut-turut jugak pergi makan kat Beach Road but at different gerai.So dah tau dah yang mana sedap. Kat situ banyak gerai sup tulang merah, so kalau nak rasa yang umph pergi gerai Deen Tiga Rasa yang opposite gerai Nasi ayam. Tapi kalau nak rasa light-light gitu pergi ler gerai hujung yang dekat tempat cuci tangan.
Best perkena dengan Roti Perancis.
Ha.. this is the way how to enjoy….abaikan background belakang… let me enjoy the sedapness. Ni orang mengidam tgh makan
Ha nak makan ni tak payah ler sopan santun…. gonggong jer… Sedap.. rasa dia cam lemak-lemak ada sikit manis, daging pun empuk jer. Tapi tulang tu keras tak leh makan.Kuah dia sedap, pekat. Kuah mintak lebih sikit. Ha , tulang tu jgn dibuang gitujer, sila amik straw and sedut sum-sum dia. sebelum sedut, letak kuah sesudu. Nikmat sum-sum dia yang lemak penuh berkolestrol, sampai ke otak.
Disebabkan 2 malam berturut-turut makan sup tulang merah, ada orang lose weight sbb kena jalan almost 20 minutes from Suntec to Beach Road. Balik amik taxi ler, sayang kalori sup tulang tuh.Kids pulak makan noodles.
Sup tulang merah is forever my favourite since small.
Incase malaysian nak pi, ckp kat driver taxi, nak pergi Food Centre Golden Mile, Beach Road for sup tulang. BTW, kat Haig Road pun ada satu gerai sup tulang . pun sedap.
Meh Tengok SawaScore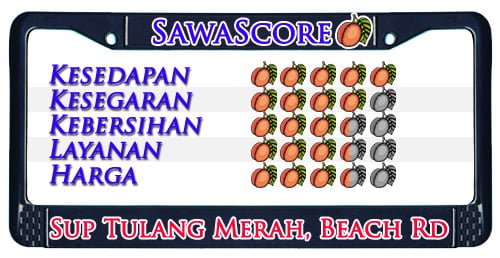 Edited by Kheirul: Direction to Golden Mile Food Centre.
From the Singapore City Centre… take the Beach Road, the food centre is in front of the Bus Station

View Beach Road Singapore in a larger map