Eczema bunyi macam simple tapi sebenarnya seram. This little girl start ada rashes umur dua bulan . On & off. Sapu moogo then hilang but not cured. It came back whenever on a very hot day atau bila bila dia suka.
Pergi panel clnic bagi ubat ( mico) then getting worse, pergi jumpa her paed during monthly check up, bagi ubat (canesten) nampak ok tp sikit je. Doctor treated her face as a fungal infection. From normal rash , eczema then fungal infection.
hati ibu mana tak hancur berkecai… bila the most horrible time was there. Muka Aqilah merah. Ada nanah , ada darah … malam tido i have to bedung dia sbb tak bagi dia garu muka. I stop mengajar kelas Taekwondo sbb nak jaga dia. Muka bab merah , kering menggrlupas sampai malas nak jumpa orang… macam macam dorang suruh sapu… air tembakaulah ( pala otak dia ahhh), ubat cina ( i knew they wanted to help but please) , lipstick, air kencing baby.. but the most i hate was when people touch her face. Please lahhh jangan pegang muka baby kalau tangan korang berpeluh, kotor , baru lepas rokok ke, even pegang tombol pintu… it make it worse…
then 5 days before her aqiqah , i took her to see dermatologist… i told her what other doctor gave.. dia ckp Semua ubat Yang diberI betul , maybe dia tak serasi.. after consultation she gave us dua cream n bath soap. Within 5 days.. it's getting better. Cumanya kalau dok tengah panas lama berejan merah lah muka dia balik ni la ubat yang dia guna
yang ni pakai masa hari yang teruk sangat…. sapa 2-3 kali ok lah…ubat ni mmg simpan stok.KEna simpan dalam fridge.Ni untuk treat fungal.
Ubat ni plak untuk lembabpkan kulit dia.Nama dia Sebclair. alhamdulillah serasiUntuk mak-mak yang anak ada masalah cam gini, bawaklah anak jumpa doktor.Jangan maintaram sapu.Jangan saja-saja sapu air tembakau lah, ubat cina lah, lipstick lah, air kencing lah. Mungkin berkesan, tapi tahukah anda apa yag terkandung dlm sapuan tu. mungkin steroid yang tak terkawal, tepung kanji atau bedak pun saya tak guna sbb kadang-kadang bila kulit basah lepas tu letak tepung jagung lah, kanji lah..mula lah terbentuk kulat.Saya cuma guna ubat doktor dan juga ubatan organik buat masa ni.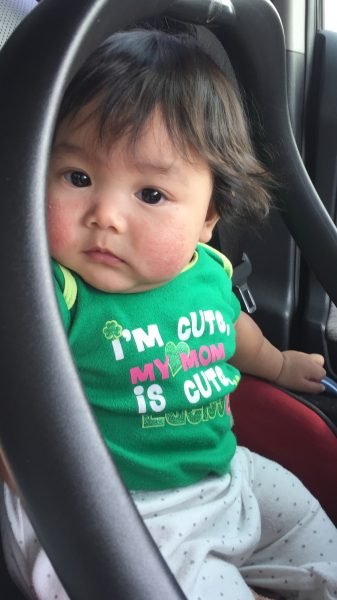 9 February -Hari yang panas n pergi plak kelas Taekwondo yang berpeluh
11 February – high peak. Mak mana yang tak sedoh tgk muka anak macam ni. Luka siap dgn nanah kot
13 February -a day after dermathologist'consultation and sapu ubat. Muka yang menggelupas licin sikit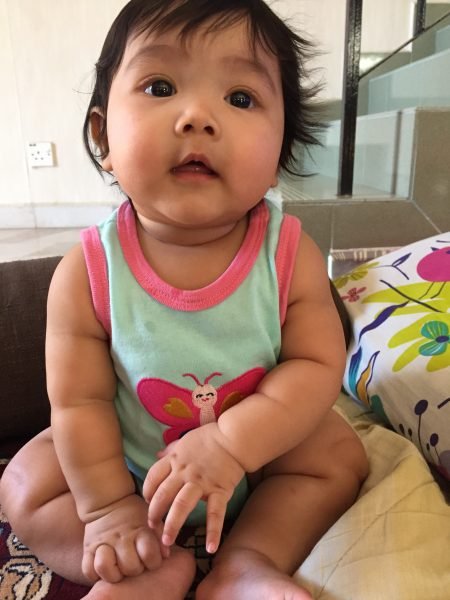 25 February – muka dah nampak perubahan dan makin licin.
Muka sekarang
Merah dia ada gak datang on n off, especially bila musim panas.Jadi kena standbylah.Jangan kasi badan dia panas.KAlau badan dia panas mandikan dia… ha gitu …
muka dia bukan sepanjang masa licin gebu.. bila datang hari panas, kuar rumah kena panas . merah akan start balik tapi tak teruk lah. I tak sapu pun daktacort sepanjang masa. Bila benar benar memerlukan sahaja. Sebclair je guna tu pun kalau ada kasar kasar kering kat muka.
itulah sedikit sebanyak pasal Aqilah. Kalau ada yang nak tanya apa apa tulis je kat komen.
Note: ubat – ubatan ini mungkin hanya berkesan untuk Aqilah dan mungkin tak berkesan untuk anak anda, jadi jangan pandai -pandai sapu tanpa rundingan pakat kulit. Dapatkan nasihat doktor dulu. Alatan mandian Aqilah pun mungkin memainkan peranan.
FYI saya ada 3 orang anak yang ada eczema . Setiap orang lain ubatnya sbb masing masing tak serasi. Dan setiap orang kena guna alatan mandi yang berbeza.