Sabtu lepas adalah hari kenduri. Ada dua kenduri kena pi.  Pukul 9  semua dah suruh mandi-mandi siap siap. Boys senang lah cepat je kan siap. Yang girls yang lambat biasalah.. Dua kenduri ni ni adalah kenduri sepupu Kheirul. Satu kat Putrajaya, satu  lagi kat Raub. Yang Putrajaya nama dia Ekin. Sepupu Kheirul sebelah MIL. Yang kat Raub Kheirul cakap anak sepupu belah Abah. Dia  kata dia tak baper kenal. Peliks betul… I kan sepupu, anak sepupu ,mak sepupu semua kenal tau. Yang Putrajaya , pukul 12 kiterang dah sampai. Pengantin belum ada lagi so no gambar. Masa sampai tu pun was – was betul ke kenduri kat sini. Nak senduk nasi pun boleh tanya lagi… bang betul kenduri Ekin ni hahahaha… Tengah makan baru nampak mak sedara dia yang kami panggil " Mama" datang. dah habis makan, terus ke Raub plak, konvoi ngan BIL family. Ke Raub berbaju kurung tau, berkasut tinggi… huhuhuh bayangkan keayuan dan kerimasan bergabung tenaga. I am no so baju kurung girl lah. Afriena pun sama… mama panas lah… I cakap bukak tudung nanti masa dok dalam kereta. Rayyan lagi best , tak pakai baju terus… dok kat belakang sambil nyanyi lagu cina.
Pukul 2 baru sampai Raub. Perut dah keriuk keriuk lapar…. tadi makan sikit je… nasi setengah senduk. Sampai je salam-salam, cari tempat duduk  dorang amik nasi. Bebudak ni bukan suka sangat kalau panas-panas… merengek lah.. Afriena n Rayyan. Rayyan memang tak berbaju lah…selamba je dia. Orang tegur dia, dia buat dekkkk jer.. Lauk kenduri kat Raub sangat marvelous . Nasi putih, lauk rendang, gulai kambing , gulai asam rong,  labu masak tempoyak, sambal hitam and acar. I loveeeeeeeeeeee masakan kampung kalau masa kenduri. Kalau kat kelantan kenduri mesti ada gulai kawah, kalau kat pahang mesti ada sambal hitam, gulai tempoyak.. this is what we looking for. Cook with love . Masak beramai-ramai.. bawak aura yang bagus…sebab masa masak-masak lah akan ada gurau senda, ikhlas tu wujud kan…
Ok meh layan gambar
Haaa inilah pengantin nya. DJ kata dorang ni jumpa jodoh sbb MH370. Sebab pengantin perempuan  (anak sepupu Kheirul kot) adalah pakar psikologi. Dia kat sana untuk menenangkan family mangsa. Kebetulan pengantin laki kat sana ada kerja… haaa gitulah.. Special kan?
Ok lepas, tu kiterang pun balik ke KL. Tapi sempat singgah makan ais krim dan beli durian.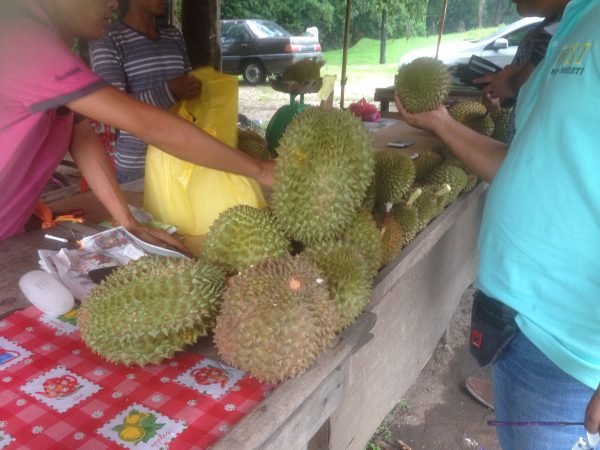 Durian Udang Merah. Masa beli kat Serdang haritu rasa durian dah tak fresh. Yang ni rasa fresh. Manis , lemak cukup… Murah sikit lah kat sini.. Murah RM3 rasanya… Pastu tokey tu kasi buah nangka free.