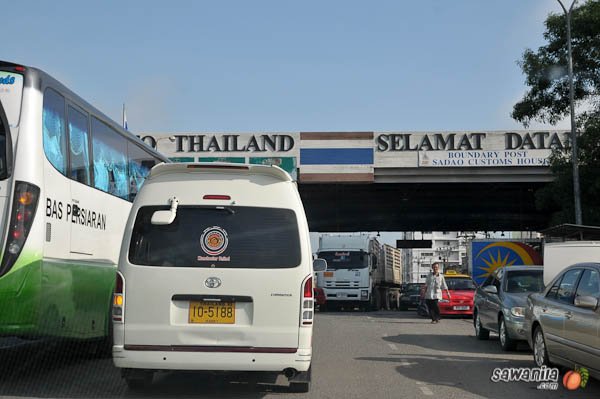 Assalamualaikum,
Kami sekeluarga bercadang bercuti ke Haytai & Krabi dan ingin share kepada semua kalau ada sesiapa yang nak join trip saya kali nih…
Seperti biasa, trip kali ni kami plan semasa minggu ke-2 cuti sekolah mulai pada hari Jumaat 31 May hingga Rabu 5 Jun 2013 (6 Hari). Tengok 5 hari tu nampak gerun untuk ambil cuti kan.. tapi untuk makluman semua… cuti yang perlu ambil hanya 3 hari aja… Isnin, Selasa dan Rabu….
Ada yang tanya saya.. kenapa buat pada minggu ke-2 cuti sekolah dan tidak pada minggu pertama… sebenarnya minggu pertama cuti sekolah dicampur pula dengan cuti Hari Wesak pada Jumaat 24/5 tu.. berkemungkinan jalanraya akan sesak dengan orang balik kampung dan bercuti.. so saya taknak ambil risiko jalan jem dan kesesakkan maka eloklah plan pada minggu ke-2.
Trip Details:
Tarikh: Jumaat31/05/13 – Rabu 05/06/13 (6 Hari)
Requirements:
i. Sihat tubuh badan dan kenderaan berkeadaan baik
ii. Salinan photocopy Geran Kenderaan
iii. Insurans Thailand (akan dibeli di Changlun)
iv. Passport Malaysia
v. RM & Thai Baht yg mencukupi
Plan Schedule:
Jumaat – 31/05/13
– 10:30pm – Berkumpul @ Sg Buloh R&R
– 11:00pm – Tayar bergolek ke Changlun.
* 2 stops sepanjang ke Changlun (akan ditetapkan kemudian)
Sabtu – 01/06/13
– 6:00am – dianggarkan sampai di Masjid Changlun utk Subuh
– 7:00am – Beli insurans Thai & white card @NZ Enterprise (RM25)
*boleh tukar RM ke Baht kat sini.
– 7:30am – Refueling dan terus ke Border BKT/Danok (ni kena awal untuk elak kesesakkan kat Thai immigration / kastam)
– 9:00am – expected clearence ngan Thai Customs
– 9:30am – Breakfast @ Danok
– 11:30am – terus ke Hatyai (hotel)
– 12:30am – Check-in & rest
– 1:30pm – Lunch
– 2:30pm – Drive/tut-tut ke Floating Market
– 3:00pm – Free & Easy @Floating Market
– 5:00pm – Free & Easy @Hatyai Town
*Solat jama' kat masjid terdekat
– 7:00pm – Dinner & go back to Hotel
*rehat secukupnye beb sbb esok drive lagi ke Krabi
Ahad – 02/06/13
– 7:00am – Breakfast
– 9:30am – Drive ke Krabi (325km)
*expected 3 to 5 hours of journey, depends on # of stops
*Route – Hatyai – Trang – Krabi
*Stops – R&R sebelum masuk Thanon Phet Kassim (TPK) highway
*Stops – R&R TPK Na Yong, Trang (Lunch)
*Stops – gerai buah, ayam goleks, etc… mid road to Krabi
– 3:30pm – expected arrive @Krabi
*Check-in – Free N Easy
*Discuss about Island Hopping Activities, Booking Boat bla bla bla
Isnin – 03/06/13
– 7:00am – Breakfast
– 8:00am – Island Hopping………
– ???pm – Return Free & Easy
Selasa – 04/06/13
– 7:00am – Breakfast
– 8:00am – Free n Easy
– 10:00am – Rolling Home (Hatyai/Penang)
*BIG NOTE… night stop hotel @Hatyai or @Penang. Will Decide Later!!!! Hatyai if you want
to repeat shopping / Penang if you want to have a goood nasi kandar)
Rabu – 05/06/13
– 7:00am – Breakfast
– 10:00am – Journey home!!!!!!!!!
BUDGET:
1. Hotel @Hatyai = Rm100-Rm150
2. Hotel @Krabi = (RM150-RM200)x2 (proposed Nadivana Apartment)
*for hotel booking will decide later.. normally I book via Agoda.
3. Island Hopping = RM80/pax (lebih kurang, nego kaw kaw ngan tokey boat)
4. Petrol = RM300-rm400 lebih ada.. kurang takde…. +petrol kat siam mahal oooo
5. Toll = RM100 KL-BKT-KL…
OK Guys… That's my plan.. Cadangan dialu-alukan… buat masa sekarang nih saya sekeluarga memang confirm pergi….. kalau sapa-sapa nak join dan nak rasa drive kat Siam.. jomm laa ikut sekali….
Note: LATEST BY 10 MAY 2013 to Confirm….