Panjangkan sinopsis ? sampai ada part 2. Now let me stori mori pasal floating market plak. Floating market ni kira dekat je dengan city centre, dalam 15 minit je driving. Kalau naik tuk tuk, dorang charge 500Baht pergi balik so dorang tunggu la kita kat situ dalam 3 jam kot.Kiterang sampai check -in hotel pun dah pukul 12, so first thing to hit off course la shower.Gila melekit badan mesti kena mandi. Lepas mandi rest kejap, lepak tengok tv sementara tunggu Kheirul tidur. Bebudak ni? dorang ada ipad, notebook senyapla.Dalam kul 2 , kiterang pun mula berkumpul, tapi disebabkan GPS kat Hatyai ala-ala pening so, kiterang naik kereta je sbb tak jumpa geng konvoi lain.Naik kereta set GPS..tadaa dah sampai.
Hah.. gambar kat atas tu adalah gambar parking dia.. so kalau nak pergi ngan keter, kena datang awal baru dapat parking.. kalau lambat, parking full n sesak.. Parking free aja takde kene charge apa apa.. janji parking keter elok-elok dan takde blocking keter orang lain.
Inilah rupa floating market dari atas jambatan.
Ashraff and Afriena memang la excited sebab mana pernah dorang jumpa orang menjual atas perahukan.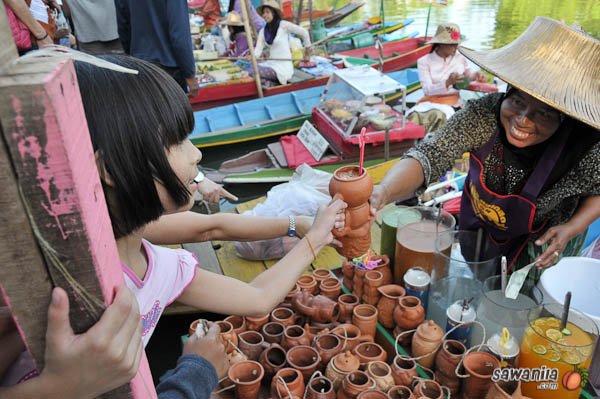 Siap beli air sendiri lagi. Semua benda harga dalam 20 Baht – 25 Baht. Oklah. Beli makan and makan kat situ je.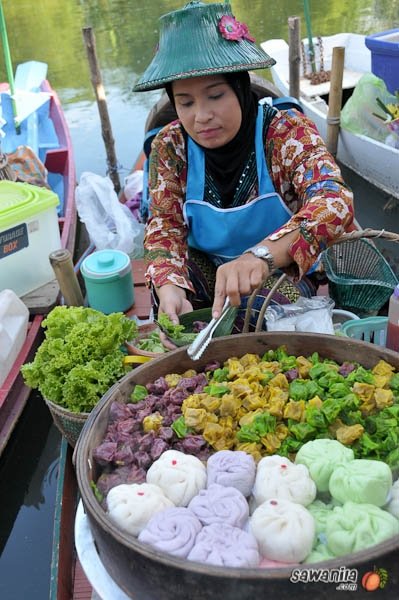 Ni memang kena try sedap. Oh ya 80% makanan kat sini halal. So senang la.
Cute kan, Yang muka macamkucing tu actually fishball, Rayyan tak makan dia sayang. Dok pegang samapai bilik hotel.Rasanya banyak gak kiterang beli habis dalam 300baht. Memang kenyang kat situ je. Beli jagung (now terkilan tak try jagung kaler purple), pastu dessert yang dalam buah kelapa, ikan bakar, air 3-4 gelas sebab cuaca panas. Kalau you all ke situ, sila jaga bed ye sebab ramai sangat orang. Kalau nak drive ke sana sila awal dalam pukul 3 waktu tempatan so that you all dapat parking.
Steady je dorang dok masak atas perahu. Mana nak balacekan badan lagikan.Kalau perasan kat setiap perahu memang akan ada chop halal for those yang halal, kalau tak halal dia tak letak apa-apa. KAlau pat jual air , memang takde halal but normally air yang jual kat situ adalah teh susu, laici dan oren.
Kalau kat entrance tu dia ada pasar malam gak, ada jual baju, souvenirs, tit bits dan tak lupa juga makanan yang famous  cengkerik goreng, belalang goreng, ulat goreng dan segala macam serangga goreng.hahaha sapa berani try??? I lalu tengok pun dah rasa loya.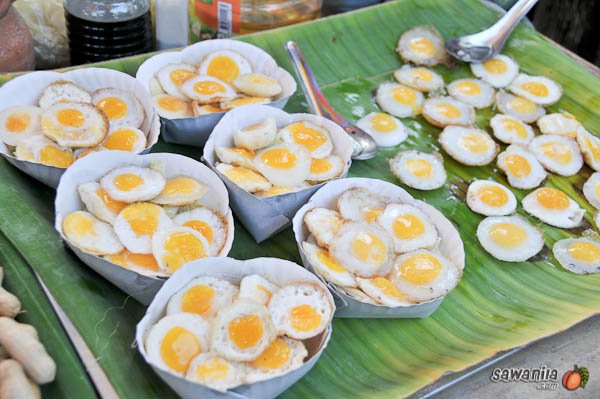 Cuma beli telur puyuh goreng. I memang tak makan kalau telur tak masak full, so tak tahu sedap ke tak tapi menurut kata pecinta telur tak masak iaitu Kheirul and Ashraff dorang kata sedap sebab dorang letak sos masin and pepper kot.Pastu apalagi balik la.. nak pi cari pulut ayam plak.