Actually dah sebulan lebih beli vacuum ni sajalah nak share some info pasal vacuum yang paling best.Vacuum yang lama yang telah berusia dekat 8 tahun macam dah tak larat nak sedut. Dah lah tukang yang vacuum ni ada sikit malas nak pakai sebab dia berat. Yelah berat and buat sakit belakang. So maca biasalah…ngadu kat husband tapi bukan ngadu domba suruh beli baru, just mintak toling husband vaccum rumah . SO bila dia vacuum, dia pun complain … vacuum ni macam tak nak sedut je. hehehehe baru tau ye bang…So dia pun ajaklah pi Harvey Norman kat Ikano. Mana lagi tempat nak cari benda pelik.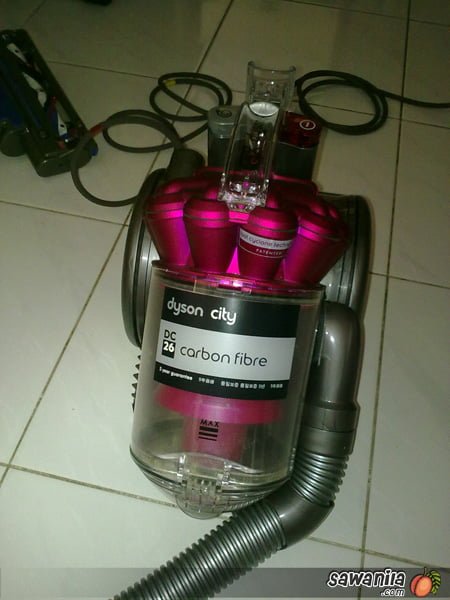 Dyson vacuum cleaner DC26
Apa yang peliknya??? I dah kasi specification untuk vacuum baru..
Nak yang kecik  -sebab senang nak simpan , limited space kat rumah ni
ringan – senang nak bawak kehulu-hilir dan akan memberu semangat untuk rajin vacuum
tak bising – Rayyan tak suka bunyi vacuum, mesti dia nangis.
kuat sedut -ni penting tak nak lah yang jenis malu-malu
 senang nak cuci – harus sebab tak nak sikit-sikit abang tolong cuci boleh lagipun dia bagless
flexible -boleh sedut mana-mana tempat, lantai, karpet tebal, dinding, kipas, bawah katil..
So masa kat kedai tu..cakap nak macam tu macam ni, orang tu pun recommend amik dyson.Beli kat The Curve tapi kena amik kat Mont Kiara sebab habis stock. Lepas dapat je vacuum, esok tu ada orang tu rajin  vacuum rumah hehehe, Puas hatilah pakai vacuum ni sebab senang nak bersihkan dia, main tekan je. Tak berapa bising macam vacuum dulu . Rayyan pun suka vacuum ni , dia pun sibuk nak vacuum rumah sekali.Bila orang habis vacuum dia pun sibuk nak tekan button cabel.