Ni juadah berbuka untuk hari Isnin hari tuh. Since Kheirul cuti untuk settlekan sekolah Afriena, so sesambil tuh singgah la pergi pasar untuk cari ikan terubuk. Hari tu dia pergi, ikan tak berapa segar. Alhamdulillah ada gak ikan terubuk . Oklah segar lah jugak. Kiterang ke Pasar Borong Seri Kembangan. First time gak lah Rayyan masuk pasar and as for me dah berzaman tak pergi pasar. Selalu Kheirul yang pergi, kang dia balik siapkan semua and me tunggu masak je. :) Rayyan plak masuk pasar macam blurr je sebab banyak ikan kot. Senyap je. Lepas pi pasar pi amik Ashraff kat Sekolah Agama then bawak balik rumah kasi mandi, rest kejap then ke Sekolah Cina plak.
Petang lepas settlekan urusan daftar haji, balik tidur sat pastu bangun masak asam pedas. I suka asam pedas esp ikan terubuk sebab rasa lemak ikan tu masuk dalam kuah. memang superb. sedap kuah tu hirup-hirup je.Ni kalau MIL tengok ni, mesti dia suruh masak. :) Resepi asam pedas boleh lah tekan kat sini. Yang ni I buat ikan pari, so you all tukarlah ikan kegemaran memasing. Nanti nak try ikan parang plak lah…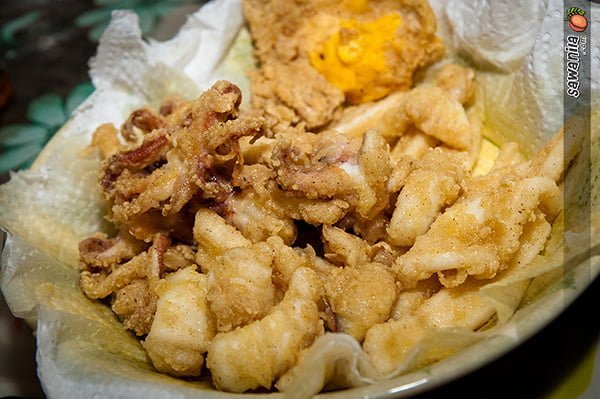 Selain ikan terubuk, kiterang beli sotong gak. Perghh sotong mahal gak..nak cari yang fresh tu susah betul. Kiterang buat sotong goreng tepung. Yang ni Kheirul lah yang buat sebab I takut meletup. Tapi tak meletup pun. Sotong banyak ni, Ashraff jelah makan.Sotong ni goreng pakai tepung kentucky.
Pastu I buat puding sagoo. Kheirul favorite.  Terlembik sikit, tapi sedap plak bila lembik. Sagu makan dengan santan dan gula melaka. Kalau nak tau, Rayyan habis semangkuk kecil sagu ni. Dia suka rupanya. Memagnlah sikecik ni kuat makan. Sekarang pun dah macam tembam sikit. Nak dokong pun ada penat sikit. Resepi Puding sagu ada kat sini. You all nak buat kaler apa-apa pun boleh. Kali ni buat kaler hijau and putih plak.
Oh semalam tak amik gambar pun for makan-makan. Semalam masak Sambal Udang dengan Petai, Petola masak air dan keli goreng. Pastu I buat agar-agar gula melaka. Hari ni plan nak masak nasi ayam jer. tetiba suami cakap, Hari nasi ayam boleh tak? Sehati sejiwa betul..