Hari ni I on EL ! Boleh gitu? Semalam Rayyan and Afriena demam. Pukul 5 macam tu, badan dorang panas. Afriena takdelah meragam lagi active adalah especially bila Abang dia balik sekolah. Siap makan biskut lagi dengan Ashraff. Satu benda yang I suka pasal Ashraff, Anything he gor from school mesti bawak balik share dengan Afriena. Semalam dia dapat biskut, Lǎoshī dia kasi sebab dia boleh buat Chinese reading. Nextweek start dah exam and Afriena lagi 2 minggu exam. Exam kali ni penentu untuk Ashraff ni . Semoga dorang boleh buat exam dengan baik.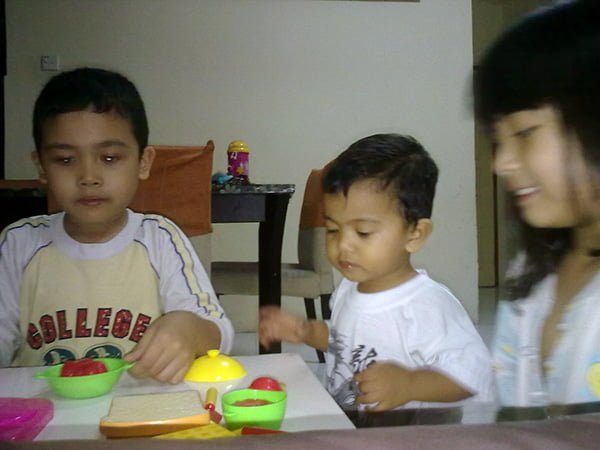 Since 2 budak demam semalam, Tidur I pun tak cukup. Kejap-kejap kena bangun sebab Rayyan panas , pastu dia nak asyik minum susu je. Semalam I tidur awal pukul 11 pm gitu, tapi 12.30 bangun balik sebab badan Rayyan panas, dalam 39 darjah, so kena masukkan ubat kot tutttt (memang ubat standby doctor, sbb doctor takut kena sawan) Pastu lap-lap badan dia, letak coolfever then tu pergi check Afriena kot-kot badan dia panas gak. Yang kelakar.. masa masuk bilik Afriena, I terlanggar kipas sampai terjatuh, Rayyan sempat lagi cakap ha hah ha hah, dalam demam pun boleh dia kan…
Tadi pagi bangun tidur, kepala I sakit sangat sebab tak berapa cukup tidur, asyik bangun je so I cakap nak EL je lagipun Afriena tak bangun lagi, Rayyan sampai sekarang belum bangun. So Ashraff pergi sekolah dengan papa dia je, later baru I pergi amik for lunch and hantar ke Chinese school. NAsib baik Ashraff tak buat perangai kot kot dia jeles Afriena tak pergi sekolah…
Afriena bangun dah…dia cakap
"I have fever because there's hot sun in my tummy, and my body became hot…"
I tanya, "hot sun?"
Dia cakap, I don't want hot sun, I want blue moon in my tummy….
Tu dia, dia ingat matahari masuk dalam perut, pastu badan jadi panas then dia demam…
Tu belum bab dia cakap duit ada 100 sen. Mama dia blur kejap. 100sen = RM1 boleh buat order pizza katanya.