Hahaha.. macam romantik tak tajuk dia???? Bukan rindu sesapa pun rindu kat Ashraff n Afriena. Sebab tetiba jer I rasa yang I jarang luangkan masa yang berkualiti dengan dorang.Since baby dah mula tak reti duduk diam.. lagilah rasa macam no time for them. Time baby tidur baru boleh buat kerja macam sidai baju, masak, kemas mandi and sembahyang.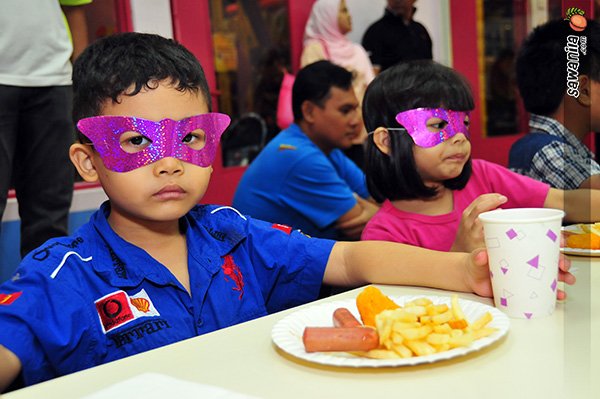 Kesian jugak dengan Abang and kakak … dulu I selalu suapkan dorang makan tapi sekarang dah tak sebab sendiri nak makan pun kena cepat-cepat. My style is, I tak suka makan time budak nangis, I suka makan tanpa gangguan. Makan tanpa gangguan cepat kenyang dari makan dengan gangguan.Dulu selalu bawak dorang pergi swimming, tapi sekarang dah kurang sebab tak sempat, mana nak masak,nak suap baby makan nak mandikan baby.
My main purpose benti kerja adalah nak jaga and spend more time with my kids. Macam ye and tak ye jugak. I'm getting busy rasanya.Nak luangkan masa untuk diri sendiri  pun dah takde masa. Contoh menjahit, macam tersidai jer mesin jahit tuh. Mana ada masa….Asal tekan jer…. waaaaa nangis. Si kecik tuh tak boleh di lepaskan sebab dia suka tolak kerusi kang jatuh.. kalau kurung dalam Cot nangis plak… like I said I suka buat kerja time yang tenang jer… Baking pun dah lama tak buat. semua kena korbankan. Harap pengorbanan ni semua adalah manfaatnya.
Kesian plak dengan Ashraff and Afriena. The only time I have with them cuma time buat homework, time nak tidur and time mandi. During homework time, I yang ajar, hahaha dari tak reti bahasa cina now I tau dah sesikit. I can recognise few words dah tau. 2 budak ni pelik sikit, kalau hoemowrk tak nak plak si papa nye mengadap. So terpaksalah dengan gendong baby dok ajar dorang. TImenak tidur, walau I marah jadi singa camner pun mesti dorang carik mama dorang nak tidur. Nak kiss mama dulu. Time mandi I mandikan le kekadang tak gak.. mandi kena scrub dorang semua kalau tak berkarah ler…Insya' allah kalau baby dah besar mungkin ok sket kot. but frankly, memang penatlah jadi housewife nih. Rasa macam nak back to work jer… :(
Ohya.. ada pesanan untuk papa,
Anak-anak selalu dok tanya esp Afriena, why papa always late to be home? ni soklan setiap hari ditanya. And semalam, dinner, dorang tak nak makan walau dah lapar sebab nak tunggu papa balik makan sama.Tapi I paksa suruh makan dulu sebab kesian.. So pepaham je la…dorang rindu kot
NOTE: Masih tak dapat hadiah hari jadi…