This is the Part #2 from the previous HTC Aria Review Part #1.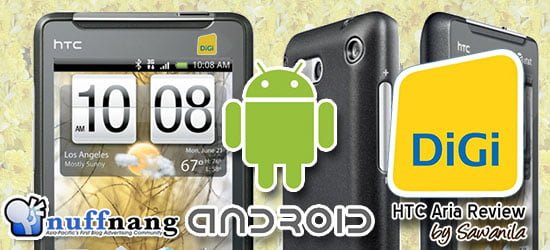 As everybody was make known that I was given an opportunity to test and make a review about the brand new HTC Aria Android phone . Thanks to Nuffnang and Digi again and today I'm going to talk a little bit about the feel of using the Android smart phone. Being the first timer to Android smart phone is really a fantastic moment for me.

When you talk about smart phone, definitely it won't limit you from accessing your email, schedule, personal info through your phone, or in other words is the phone become a handy personal computer. Nowadays, smart phones can do a lot more where it has become a main communication medium to social networking tools such as facebook, twitter, google, youtube and others.
With HTC Aria, the first thing you need to have is a Google account. So once you have configured the Google account into the HTC Aria phone, it is a really fantastic when all your other Google account settings such as gmail, calendar, contacts, gtalk will be configured into your phone automatically. Once configured…. it will be a fullamaaaakkk things happened…..
So after using the HTC Aria for nearly a week…What I can wrap up here are:
The Desktop
The first thing you'll notice about Android is that its desktop differs somewhat from those on other smart phone platforms. You have a lot of freedom to customize the Android desktop. You aren't limited to four simple rows of perfectly aligned square icons. As a result, you can customize the Android desktop to reflect your interests, and you can make it as full and dynamic as you like. This is really wonderful and I really really like it so much.
The HTC Aria is equipped with Android version 2.1 and with this platform you can add various widgets onto the desktop. Widgets are dynamic programs that operate directly on your home screen. They can perform any number of functions and giving you the latest info you need such as weather, world clocks, facebook, gmail, or even music players etc.
Keys and Functions
With HTC Aria, there are 4 standard keys which are a Back key, a Menu key, a Home key, and a Search key. These 4 keys makes navigation really easy no matter what program or application that you're running. Besides that, there are volume button and power button also. In addition, there are USB/Charge port and earpiece connector port for the convenience.
Another cool things about HTC Aria is the Flip to Silent function… This is really cool function for me as I always stuck in a long meeting. So when somebody call me, I just need to flip the phone down and it will be in silent mode.
Besides that, the phone are equipped with GPS and a lot of GPS apps such as compass, Google Maps, HTC Footprint and others, so you will never get lost. For me I use the Compass function to get the Arah Kiblat for my prayer directions to Kaabah. To do this, you need to download the Islamic Apps from the Android Market Place.. its FREE anyway….
The Keypad
There is no keypad/keyboard in HTC Aria, what they did is using the virtual keyboard on-screen. As for me, at first I felt discomfort due to my fatty thumb and fingers. But, after using it for a week now, I felt the keyboard is really easy to navigate and use. Furthermore, it has the prediction words that make it easier to write.
Notification Panel
Another cool things about Android phone is the Notification panel. It puts incoming information at your fingertips now. Notifications can come from many different source such as e-mail, voicemail, text messaging, even social network and news applications or what so ever. When you get a new notification, an icon will appear at the top-left of your screen. You can pull down the panel to see detailed information about the notification and then take action if you wish. There is a clear button as well to clear the old notifications.
The Battery
After a week of using this HTC Aria phone, I noticed that I need to charge the battery everyday.  It can last a day and a half for a normal use and can drag up to 3 days if less use the phone. The battery will dries so fast if I enable the GPS, using the Wifi and play games. That's normal for a smart phone. I'm quite satisfied even on a low battery indicator flashes, I can still talk nearly 15 minutes and the phone still alive.
The Camera
As a freelance photographer, I will not miss in judging the photo quality. The HTC Aria comes with 5.0 megapixel camera with auto focus and face recognition function. Another cool thing about the camera is it also include the geotagging into the picture you captured so it shows the GPS coordinate where you captured the pics. The default format for picture is JPG with everage of 1Meg to 1.5Meg per picture file.
The camera also can do video recording and the default format is 3gp with unlimited time length. The only thing that need to be consider for video recording is the storage space. The HTC Aria can support up to 32GB of micro SD card and it is a pretty huge.
Lets go deeper.. lets have a look at the sample pics taken from this phone.
Resized from HTC Aria 5.0 Megapixel camera
The picture above was taken from HTC Aria camera and it look pretty good with beautiful vibrance and color. I won't compare this with a DSLR camera but for this kind of picture quality it is a really really good for a phone camera. What I can say here, it is at par with compact camera or even better.
100% zoom from above picture
Hahaha… lets see at 100% zoom. I can still see the details even at 100% zoom. There is a very little bit of grain but it is normal for this kind of camera. For me, the HTC Aria camera was excellent and it is at the top of its class. Cuma… satu jer… HTC Aria does not equip with camera assist light so it a little bit hard to snap a pic in total darkness……….
Thats about all for this time, and please to follow my next review later…… I'll touch a lot more about this phone.. so stay tuned…