Sekarang macam addicted dengan cream puff plak. Sebab rasanya yang sdap, lemak manis berkrim dan wangi. Semalam adalah kali ke-2 buat cream puff. First time buat macam tak cukup so Ashraff and Afriena request suruh buat lagi. Dengan kesibukan yang ada, maklumlah bila ada baby macam banyak ker nak-nak menyusu badankan sempat jugaklah I cari masa buatkan. Sebab Dah janjikan. Prinsip I adalah kalau buat janji mesti ditepati.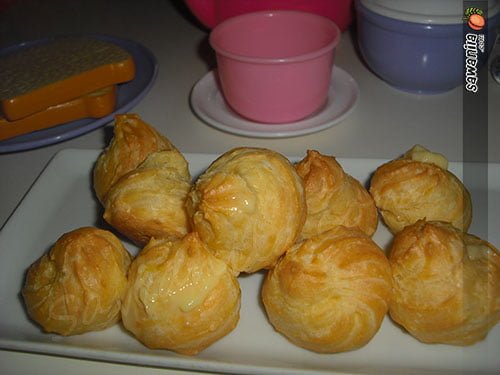 Sorrylah gambar tak lawa sebab amik pakai camera kecik jer. Camera cikai yang cuma lawa shoot outdoor. Creampuff ni I tak belah tuk letah filling dia, I main tebuk dengan nozzle. Bebudak cakap cream puff icecream sbb filling dia I chilled kan dulu.
Actually, I buat project jual cream puff ni.Mana tau kot -kot ada orang nak tempah untuk party ker , I boleh buatkan. First step to the business.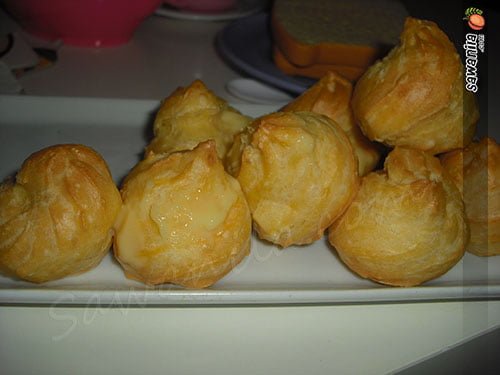 Semalam buat dalam 30 biji, ada lagi 8 biji kot dalam fridge. Sebab the 24 dah kena balun dengan Ashraff and Afriena. Actually they were meant for Kheirul who promised to eat them and also to photo shoot the cream puff. And the sad thing is Ashraff was waiting for his papa sebab nak makan cream puff sesama. Alih-alih budak-budak tu dah tidur and tak sempat makan lagi.The size adalah sebesar tangan budak kecik. And normal kids boleh makan dalam 5-8 biji seorang.
So, kalau ada sesapa nak order bolehlah EMAIL ME for quatation at yatie@sawanila.com . Minimum order adalah 100pcs.
NOTE: at the moment takleh amik order .. cos i have lil baby yang terlampau aktif, susah nak concentrate.