Menjahit lagi??? tiap kali Ashraff and Afriena nampak mama dia dok menjahit mesti tanya, mama is this for baby? Yes. Takut jugak dorang jelaous. Sikit-sikit for baby. Tapi I rasa I saved a lot dengan menjahit.
Last week managed to make one side pocket for baby cot.Senang nak letak minyak telon,ke nappy ke , wipes or other things yang senang untuk dicapai.Enjoy the picture. This time, bedding set is more to aquatic theme. Saja nak matchkan dengan cadar Anakku yang tak pernah pakai since Ashraff time. So pakai fabric sama jer.
So nanti boleh attach kat tepi baby cot then letak je barang-barang kecik dia. At least save la jugak duit. I used velcro for the holder, tapi kalau tak cukup kuat, I'll change to big button. Plan to make 1 each for Ashraff and Afriena, tapi kena cari fabrik lain dulu sbb sorang suka pink, sorang suka merah. Macam nak makanlah, sorang makan mee, sorang nak makan nasi, at last order je lah.
And I ada jahit sarung bantal jugak.For bolster, dah ada dah. Never been used since Ashraff time.BTW, semalam I managed buat bantal for new baby, sebab bantalnye set belum beli so why not I buat sendiri.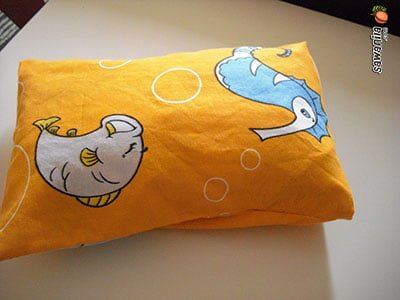 And Last 2 week, We did last shopping for baby, Baby cot , tilam, matress protector and bath tub. Kat mana lagi kat IKEA lah… at first nak beli kat Jusco, but some of Jusco nye barang like tilam, not that quality. So we decided to IKEA, sbb many choices of tilam.
Frankly, Since kecik lagi, my kids semua tidur asing. means not on the same bed but in same room. So for new baby , we 'll apply same rules.
Check out this old pics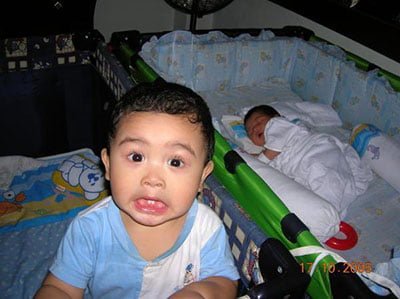 Masa ni Ashraff baru umur setahun and he is so geram dgn Afriena yang baru umur 2 hari. kejap-kejap dia cium, pastu gigit and buang semua toys kat playpen adik dia……