Kiterang balik kampung hari Jumaat lagi. Malam tu lepas dinner, dalam pukul 10 terus keluar rumah.Pi amik adik kat Subang then baliklah. Jalan jam jugak malam tu. Pastu ramailah yang jenis tak sayang nyawa, main potong je kereta pastu bila ada bas bertembung mulalah kurang ajar main potong Q masuk tanpa signal.Memang takde etika bawak keretalah. Hish kalau I yang bawak dah gaduh tengah jalan kot. Ok Sebelum samapai rumah lagi dah start makan.
Kat Kuala Krai, salah U-turn sekali nampak kedai makan…nasi dagang, nasi belauk, nasi kerabu roti canai. Apa lagi… lapar ni perut. Sedap makan situ, dah murah..oh ok kelantan makanan biasa murah. Roti canai pun 80sen je dan tebal. Kuah dal dia plak sangat pekat.Nasi kerabu dia banyak, dengan daging bakar…sedap nya. Dah settle makan, terus ke Machang dulu, singgah beli lauk pauk. Senang nak masak. Beli ikan, sotong dan udang. Balik rumah takde rest, terus masak kat dapur. So lepas masak, anak dah mandi lunch plak. Ada kari kepala ikan , sayur goreng, ikan rebus goreng, ulam, sambal petai udang. Gila tak makan banyak… Dah habis makan nasi bubur durian plak… adehhhh yang ni Rayyan suka. . Banyak plak dia makan.
Nasi kerabu, daging bakar. Sangat sedap. Memang tak jumpa kat KL nih
Esok tu ke rumah MIL, makan-makan dan makan jugak. Masa pagi raya.. ada banyak menu. Pukul 4 pagi MIL bangun masak. Menantu dia (I lah tu) tak tolong pun…I cuma tolong kacau rendang. Pastu hidang atas meja. :). Sedapnya …semua yang dia masak sedap. Kenapakah ibu kita masak sedap???Ada rendang ayam, ketupat  pulut, nasi dagang,nasi impit kuah kacang..pastu sehari sebelum raya MIL buat cheese cake. Sekali hadap semua orang. huhuhu 2 kilo jugak naik berat badan.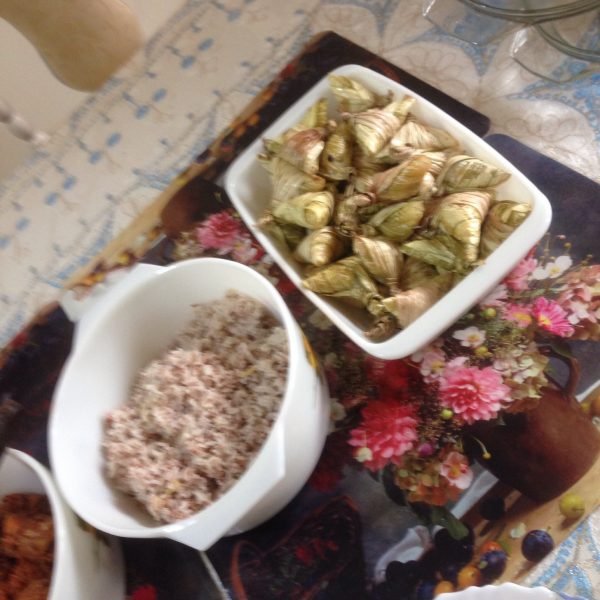 Nasi dagang, ketupat inti sambal daging. 
Rendang Ayam, nasi dagang..MIL bebel pasal senduk kayu dalam bekas tu :P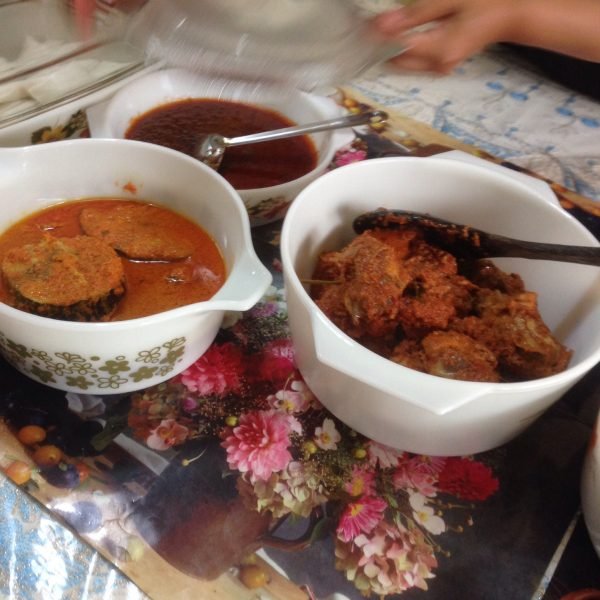 Rendang Ayam yang sedap, kuah kacang dan gulai ikan tongkol
Yang ni pulut bakar, makan kat rumah sepupu MIL, while waiting for lembu untuk sembelih
See!!! banyak betul karbo masuk dalam badan. I dah rasa gemuk sangat and feeling so down :(. Tu belum cerita makan nasi gulai ikan patin kat Temerloh lagi. huhuhuhu
Kiterang tido setiap rumah 2 malam. 2 malam kat my house, 2 malam kat rumah his house and 2 malam kat Gambang.Saja hadiah birthday bebudak pi main air. tu. Terima kasih pada yang sponsor :). Yang tu nanti kita story ye.