Dari Krabi, teruskan perjalanan ke Penang plak. One thing best kalau travel by car, boleh singgah di-mana-mana. Kiterang takde buat booking hotel pun. Knowing that cuti sekolah off course no room available kan. So kiterang just searh dalam garmin je, cari hotel. Finally, dapat hotel New Hope Inn. Not really hotel just Inn. Masih baru bau cat lagi. Family room habis, just get bilik biasa. kena berhimpit lah sikit. Sampai je… kiterang semua lapar dah. Ashraff and Afriena kemaruk  nak Mc D sebab kat Krabi McD tak halal, so kiterang ke McD for take away then search kat garmin Nasi Kandar. Nasi Kandar terdekat is Nasi Kandar Khaleel, Tanjung Bungah.Apa lagi rambang mata jap kat Nasi Kandar. telur ikan.. telur ikan……… telur ikan……
Kiterang bungkus, makan kat bilik tak larat dah nak duduk dalam kereta..
Yang Kheirul punya…Ikan keli Kari, Perut Kambing and ayam .Giler sedap ikan keli kari.
mine… kari ikan, telur ikan ayam dan sayur lebih. Telur ikan babe… sedap tuh. Kalori jangan kira. Lepas makan, semua lepak tidur. Penat.
Esok pagi plak…budak-budak bangun semua ajak pergi breakfast. Betul lah travelling memang buat selalu lapar. Kiterang pergi mamak lagi kat Khaleel jugak tapi location lain, Afriena makan roti kosong, Kheirul roti telur, Asraff roti bakar with egg, me roti banjir and Rayyan bungkuskan dia roti pisang.Sedap. Pastu balik bilik lepak, makan buah mata kucing yang beli kat Hat yai. Isi tebal giler and manis.
Lepas tu, check out dan misi mencari laksa penang. Jumpa yang kat Telok Bahang,so tapaukan Mc D kat budak dulu then baru ke kedai makan. Kiterang piknik siap bawak tikar.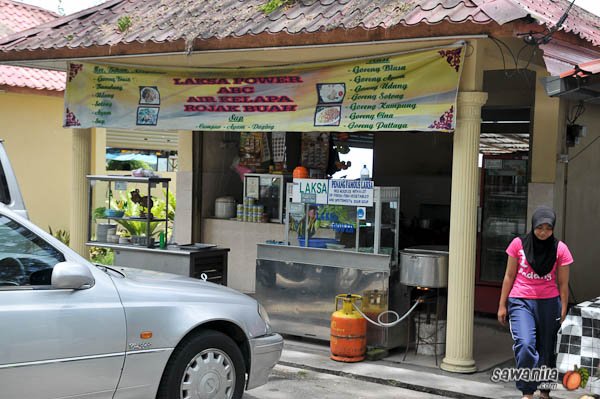 Ni lah kedai makan dia…
Tu Rayyan tu dah sibuk nak berlari ke pantai. Best gak lepak sini. Budak-budak memang have fun la kalau macam ni.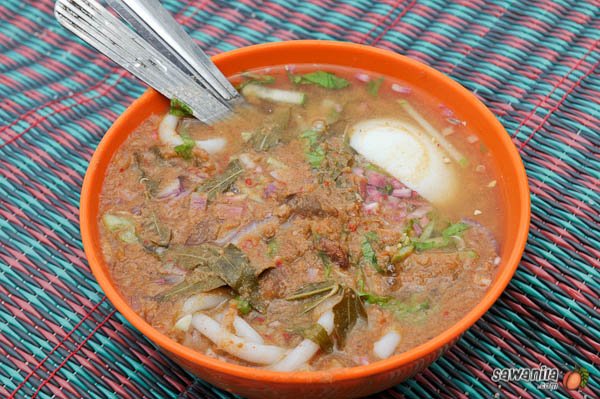 Tadaa laksa penang sudah samapi. Rasa not bad la but I still suka makan yang kat Miami Beach 8 tahun dulu. My fren yang bawak.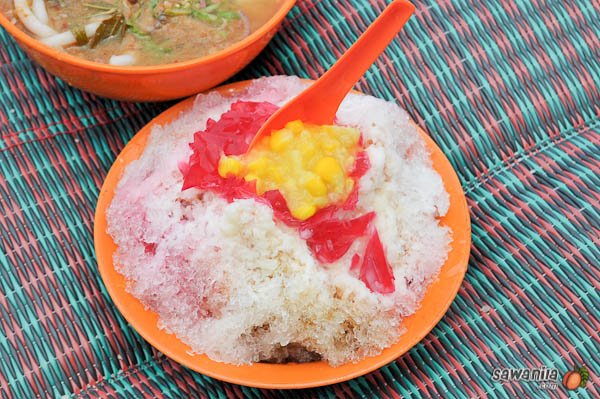 Pastu pekena plak ABC tengah -tengah panas… perghhh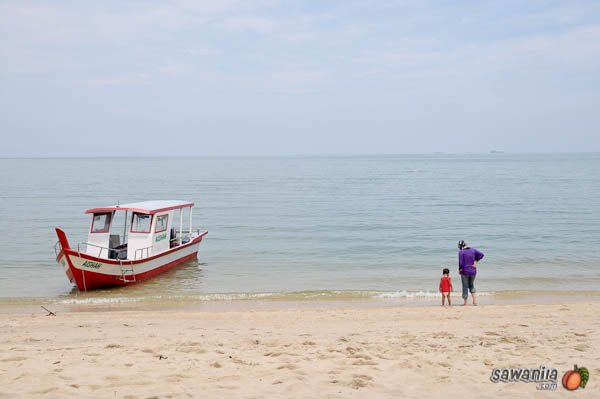 Tapi masa makan ni terganggu gak sebab.. Rayyan kononnya nak pi cuci tangan sbb dia kata dirty. Pandailah, dia main pasir pastu ajak cuci tangan,
pastu kata seluar basah, kena bukak seluar pastu dia duduk je kat tepi tuh..adehh macam-macam tau sikecik ni. Takleh jumpa air.
Tengahari buta dok tepi pantai… takpe tak berjalan pun takpe asal dapat rasa air laut… tu tergelak-gelak tu…. dah lah baju tinggal satu je.Lepas makan, sebelum sikecik tu masuk dalam air, semua cepat-cepat siap, pastu mengankat budak kecik yang meronta-ronta tak nak balik pergi mandi then terus masuk kereta kasi dia susu and tidur. And us saying good bye to Penang and naik Ferry plak.Macam biasa Ashraff and Afriena memang excited sebab first time merasa naik kereta atas ferry.
Breezing………..