You all pernah makan Garret popcorn tak? Tak lama dah ni dok ngidam cuma takde kesempatan nak pergi KLCC or IUtama nak beli. Finally hari Ahad lepas dapat pergi KLCC sebab nak pergi collect hadiah kat SKII. So sampai je KLCC from parking tu Ashraff dah tanya something..
Ashraff : What's the smell mama?
Mama: popcorn kot….
terus dia cakap nak popcorn..hehehe memang nak pi beli pun…
I told Kheirul….Bang … dah lama tak makan popcorn yang sedap, last popcorn yang sedap adalah masa kat Disneyland Hong Kong 2 tahun lepas. Lama dah tu. So dia cakap yela yela..kita beli la nih..hahaha. Nak pow kena kasi ayat kesian sikit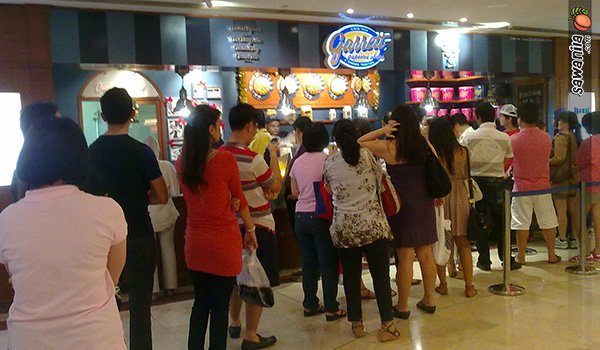 Tapi 15 minit gak beratur..pheww punyala ramai orang beratur. I beratur dengan Ashraff and Afriena sebab dorang nak tengok popcorn dekat-dekat. Yang  staff kat situ plak dok melayan budak 2 orang ni. Beli 3 pek kecik yang ingat pek medium.
This is for me and Kheirul … Chicago Mix (Caramel Crisp and Cheesecorn). Sedap rasa dia. Paling suka sebab ada masin ada manis. Tengoklah popcorn diabesar-besar. satu biji dia sebesar ibu jari.
Afriena punya yang caramel and Ashraff punya yang cheese. Dua-dua sedap tapi lagi sedap bila makan 2 flavor serentak. Rasa cheese yang sikit masin akan mencair dalam mulut pastu rasa manis caramel yang crispy akan datang menyelamatkan lidah anda. Kalau nak beli beli yang mix or beli 2 jenis ni then balik rumah , letak dalam mangkuk gaul dan makan.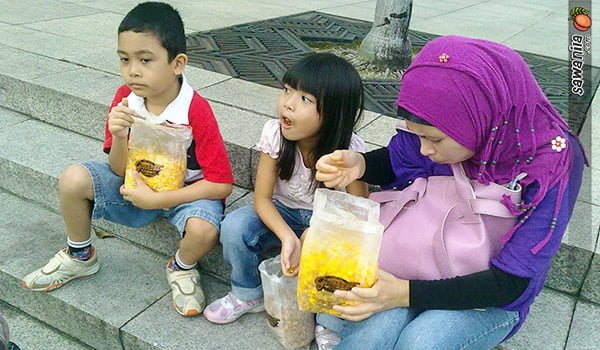 Lepas beli popcorn , amik hadiah lepak kat tepi tasik jap sambil tengok maid indon yang cutihujung minggu dengan entah apa pesen baju dok dating. Lepak kejap je…tak tahan mata den tengok gelgat memasing. Balik masuk kereta sambung makan, pastu kat rumah makan pagi tu pun makan lagi. Now sudah sangat ketagih nak makan lagi. Harus kena kesana lagi. Next month la kot. tetiap minggu cannot la….