Ni citer semalam nak hapdet cecepat sebab citer Bangkok belum habis. kasi laluan kat citer lain dulu.  Sebab citer Bangkok banyak gambar nak upload. Kiterang pi Melaka setelah seminggu dok plan adik-beradik nak pi makan-makan since Fadli, My 5th brother nak belanjer makan ikan Bakar kan. Almaklum dia ada rezeki lebih. Sepatutnya 6 beradik join tapi 5 je, lagi sorang my 2nd sister, tak sihat.. biasalah ibu-ibu mengandung. So semalam dalam pukul 3 kiterang bertolak ke Melaka. Excited gak sebab dah setahun lebih tak jumpa. Since dia kahwin hari tuh. Tak sempat nak sembang dengan adik ipar. Semalam jumpa banyaklah dok bercerita. Rupanya dia silent reader Sawanila.com, Malunyaaa err thank you.
Sementara dok tunggu Fahmin and Wife and Sidah yang masih single (ada sapa nak berkenalan ke), Kiterang lepas je bebudak yang macam tak pernah jumpa tanah. Dorang main kat luar dengan uncle Faisal yang datang dari Kelantan and with cousin dorang , Airin. Dok main kejar si Limah dengan Hussin. Penat Limah dgn Hussin kena kejor. Oh ya Limah dan Hussin tu laki bini, Arnab peliharan Airin.
Sampai je rombongan Fahmin, lepak kejap, asar , tunggu dorang makan durian then dalam 6.30 after mandikan bebudak terus ke Umbai. Kiterang ke Restoran Nakhoda. Pandai Fadli laki bini pilih tempat sebab ada skrin besar so bolehlah kiterang tengok bola.  Yang bestnya, sebab dorang dah siap booking and standby cakap pukul baper sampai so, bila sampai duduk jap makanan sampai.
Tengok apa yang kiterang berlapan + 3 orang budak makan.
Siakap tiga rasa
sambal sotong
Ikan bakar kosong and bakar bercili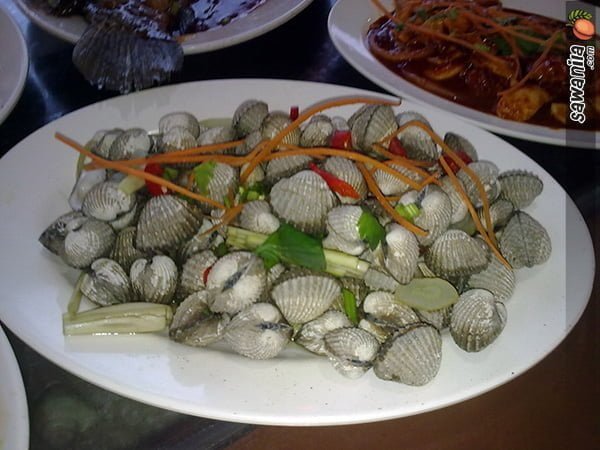 kerang rebus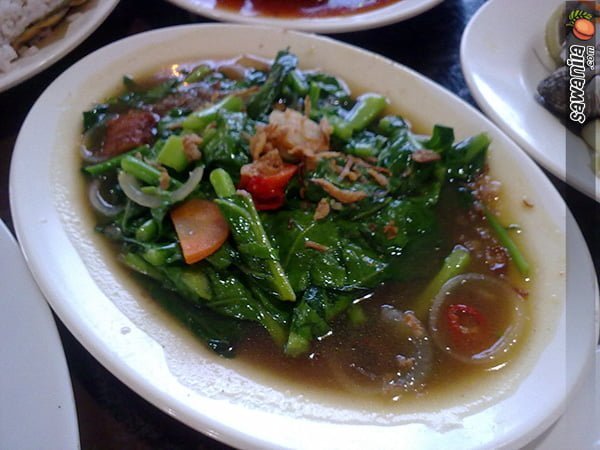 kailan ikan masin
kepah sweet sour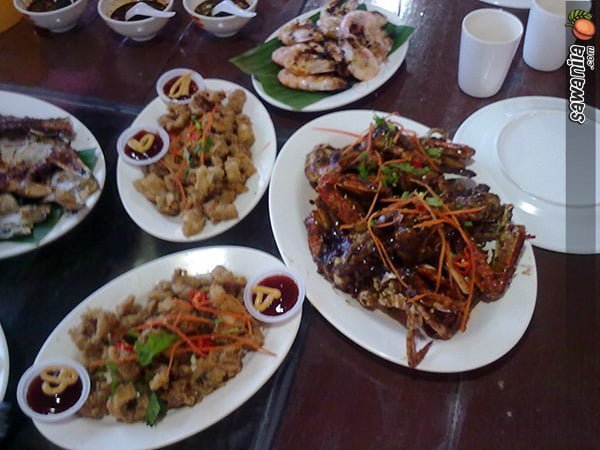 ikut arah jam: sotong goreng tepung, udang bakar kosong dan ketam masak lada hitam
Banyakkan, Dorang amik package. Dalam RM350, termasuk, nasi kosong, nasi lemak,jus orange, jus tembikai, air kosong dan buah potong . Pastu yang lagi best dapat seat bersila. Memang syiook sebab macam dok kat rumah sambil makan sambil tengok bola.
Nilah tempat duduk dia. Berlari je bebudak.
Overall, makanan kat sini semua sedap. recommended sebab semua sedap. Ikan bakar dia manis, Sotong goreng tepung tersedap sangat, Udang bakar manis giler, Ikan tiga rasa sedap rangup (cuma terlebih garing), Kepah sedap and paling sedap adalah Black paper crab.Terbaikkkkk. Lepas makan terus berpanas dan berpeluh. Ingat lepas makan terus balik, dorang semua blh lepak dgn tokey kedai tengok bola. Tahniah Malaysia sebab main dengan cemerlang dan saya rasa bangga untuk pakai jersey Malaysia. :)
And to Fadli, terima kasih bebanyak ye sebab belanja , semoga dimurahkan lagi rezeki.ameen…….
Jom kita tengok berapa score restoran Nakhoda ni
GPS Position : N2 09.306 E102 20.291