Kalau sebut pizza, bulat jer mata Ashraff and Afriena. Suka sangatlah makan pizza. Ini cerita last Friday. We ordered pizza for dinner sebab I malas nak masak. Macam biasalah, call for delivery. Domino pizza is the fastest. Kalahlah kalau order mee goreng kat kedai bawah ni. Domino pizza cuma 30 minute dah sampai.
Menu wajib diorder ialah, Aloha Chicken and BBQ Chicken wing. Since budak – budak ni suka pizza so kena order 2 regular pizza and satu set chicken wing.
Normally, I use the voucher yang selalu dapat masa delivery. You all tengoklah Ashraff mengadap pizza camner. Tu second round lepas balik mengaji tau. Dia sambung makan pizza sengsorang.
tengah dok carik ayam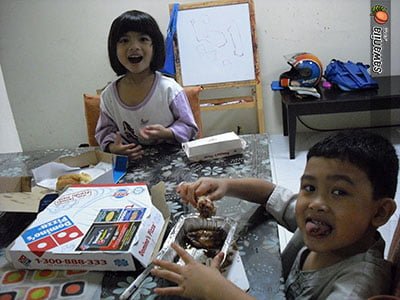 pastu Afriena join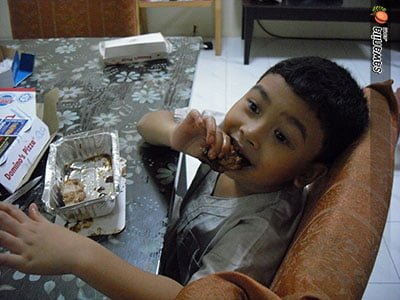 Yang ni siap suruh snap pic masa dok makan ayam.
FYI, he can finish 3-4 pieces of pizza by himself. Nasib baik pizza is only once a month. Kalau tak boleh lingkup.
Bila tengok gambar nih, terpikir…. cepatnye dorang besar.