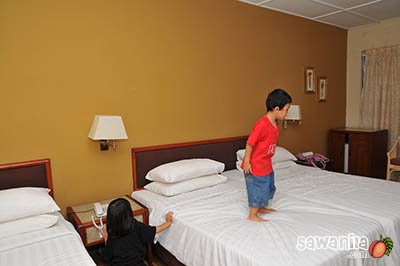 kalau dah nama budak kan.. memang tak reti dok diam.
Contohnye Ashraff and Afriena. Masa kat Kuantan hari punyalah tak reti dok diam
geram jugak la sebab Orang nak tidur, dorang nak merayap kat bawah. maklumla kan chalet atas tanah.ada je kerja dorang. paling dorang suka sapu sampah. FYI, ashraff dari kecik lagi suka sangat sgt sapu sampah.
ha ni nak citer masa tuh I dok syok tidor… jap dorang kejut, Mama, I want to go to toilet, ok bangun la pi bawak toilet, tidur balik , aleh kena kejut lagi, sorang lagi nak pi toilet
pastu I letak budak 2 orang main toys kat atas katil then sambung tidur.
Syok tidur ala ala dah sampai London tetiba,
"Mama, mama wake up!!! help help..Mama mama snake, mama wake up"
terperanjat jugak betul ke ada snake rerupa nya, bila I bangun tanya mana snake , there in TV there. Rupanya dorang dok tengok citer Majalah Tiga (bila masa plak dorang tengok Majalah 3)
Angin nye.. dah lah I tengah syok tidor dorang boleh buat suspen. Ingat kan ular betul…
tapi nak marah tak jadi sebab cam kelakar plak. Last sekali 2 beradik tuh tidur jugak.