I dapat free satu botol 150ml  sebab menang contest Bare Your Skin yang SKII organise hari tuh. Alhamdulillah boleh simpan buat stock. Padahal baru beli satu set awal bulan hari tuh. senyum …tak perlu kata apa-apa..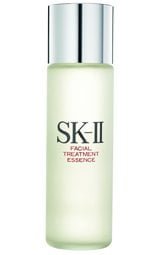 Congratulations!
We are pleased to inform you that your entry has been selected as one of the winners in our recent Contest
As a reward for your winning entry, we are delighted to present to you with your prize:
SK-II FACIAL TREATMENT ESSENCE (150ML) x 1
keratan email dia..takleh tunjuk semua…
ANW, sekrang I try yang baru gak  , facial treatment repair c. Best berkesan.  NAnti I citer pasal review dia ok.
gambar hasil google, malas nak snap