Dah habis raya ni, mulalah rasa tak nak makan macam biasa. nak itu lah nak inilah. Last week dah tau nak masak apa. Bebudak ni kalau nasi putih mulalah makan sikit je. So I google lah pikir nak masak apa. Nasi ayam dah selalu.  Beriani confirm ada masa raya, makanan omputih? malasnya nak masak. Acik nak makan nasi. Sekali google kat blog orang arab jumpa, resepi nasi kabsah. apo lai… jomlah kito masak.
I amik resepi dia kat sini
nengok bahan semua ada. alang-alang nak perabihkan ayam tu, buat la macam ni.
Resepi dia I copy je kat sini
The Hummus blog: The home of hummus dips and traditional Middle Eastern food invites you to try Kabseh Chicken (Kabseh bi Djej) recipe. Enjoy the Middle Eastern cuisine and learn how to make Kabseh Chicken (Kabseh bi Djej). 
Ingredients:
1 2/12 – 3 pound chicken, cut into eight pieces
1/4 cup vegetable oil
2 medium onions, sliced
1 (12 ounce) can tomato puree
2 medium tomatoes, chopped
4 cloves garlic, crushed
2 medium carrots, grated
Grated rind of one orange
4 cloves
4 cardamom pods
3 sticks cinnamon
Salt and pepper to taste
1 pound long grain rice
1/4 cup raisins
1/4 cup sliced almonds
Preparation:
Sautee onion in oil until it begins to brown. Add chicken pieces, tomato puree, chopped tomatoes and garlic and stir for about five minutes over low heat. Stir in three cups hot water, grated carrot, orange rind, spices, salt and pepper to taste. Cook over medium heat, covered, about 20-25 minutes, until chicken is done.
Remove chicken. Set aside to keep warm. Stir rice into the liquid in the pan, and cook, covered over low heat for about 35 – 40 minutes, or until liquid is absorbed.
Put rice on a serving platter with chicken pieces arranged around the circumference. Toss raisins and almonds over all. 
Thank you Hummus for sharing the recipe. It's delicious and full of spices
Walaupun I tiru recipe dia namun, I masih rajin untuk snap gambar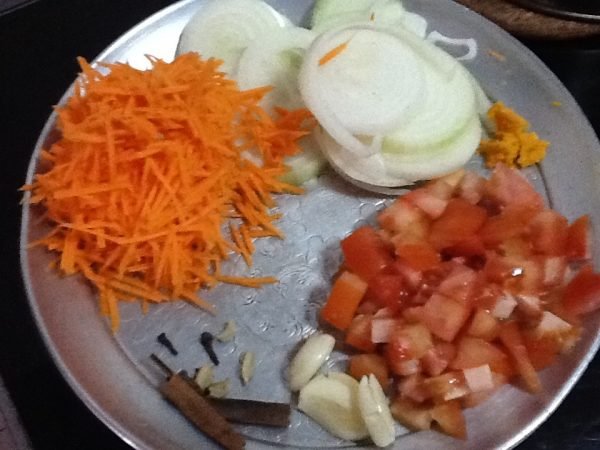 Antara bahan yang diperlukan. Yang sikit secoet tu adalah orange zest
Ayam setengah ekor. Kiterang sekarang masak, ayam kena 1/2 ekor dah. Semua kuat makan
Benda penting – tomato paste sikit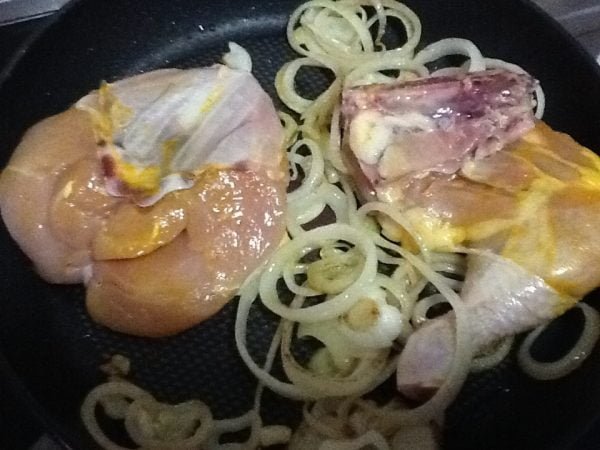 Panaskan minyak, tumis bawang then masukkan ayam. Pastu refer jelah kat resepi di atas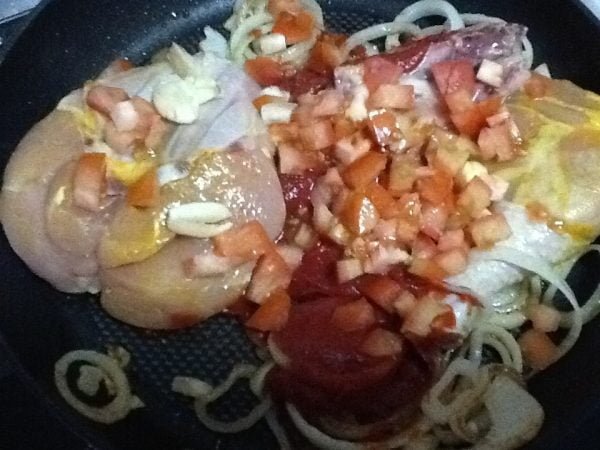 Bila ayam dah brown, masukkan semua bahan-bahan pastu masaklah ayam sampai dia masak. Jangan lupa suaikan rasa. Kot terlebih masam kena balancekan dengan sedikit gula. Bila ayam dah masak, kuah dia jangan di buang. Guna untuk masak nasi. Masak nasi macam biasa. Ayam plak, boleh dimakan terus tak pun dibakar. Sebab I rajin, I bakar ayam tu plak.
Inilah rupa dia bila dah masak. Kalau pakai basmathi lagi sedap. I pakai Beras wangi je. Rasa dia macam nasi tomato pun ada tapi rasa rempah dia yang sedap. Most likely nasi tomato Mandy kot hahahaha.. Entahlah I tak pernah makan Nasi Kabsah kat kedai lagi. I try masak sendiri je dulu. Nasi ni boleh hidang dengan yogurt tapi sbb kiterang ni tekak melayu, I buat je sup ayam.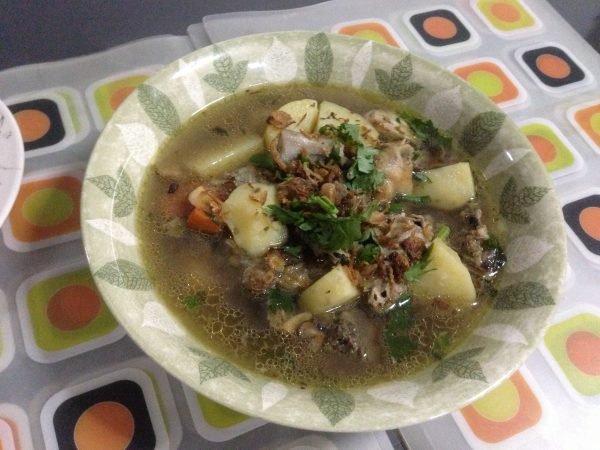 Sup Ayam…sempoi…