Yeay… tiba-tiba last week dapat email dari The Cooking House. Dorang jemput untuk masak masak dengan Pro Chef and Celebrity. Best best best.
Tengok lah…. ada 6 orang Chef… Some of them , I pernah jumpa and some not. Kalau boleh semua Chef I nak join, sebab semua menu kalau boleh nak belajar. But , masa  tak kena. Most of them, buat time buka puasa, susah nak tinggalkan anak-anak and suami berbuka sendiri. Yelah takkan nak suruh makan kat luar dengan anak-anak , mana nak layan budak, mana ngan crowd lagi.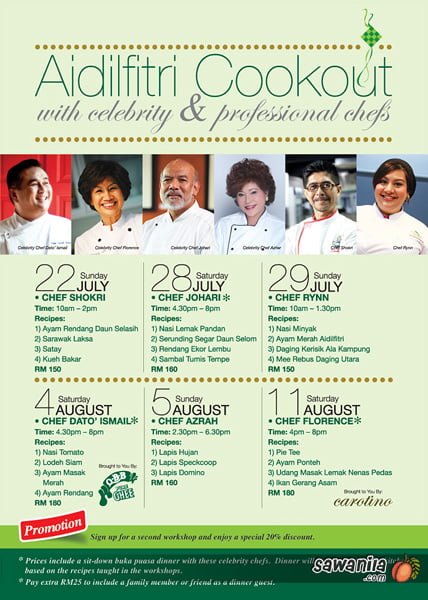 So I chose Chef Rynn. Menu  dia , Nasi Minyak, Ayam Merah, Daging Kerisik and Mee Rebus. Sound interesting. Lagipun I memang nak sangat nak belajar masak nasi minyak. Boleh lah nanti masak untuk raya … :)
So nanti pergi kena amik gambar bebanyak, then I story story ye….