Semalam balik dari sekolah, bebudak tu lepak makan potato chips dulu sementara nak mandi keringkan peluh. Sekali masa makan, Rayyan tumpahkan chip habis crumbs berterabur atas lantai, terus Ashraff laju amik vacuum. Dia kalau kalau mama dia cakap nak vakum rumah,laju je dia amik and tolong vakum. So sekarang I main duduk and tunjuk mana nak kena vakum. hehehe harusla mengambil kesempatan. Rajinkan anak teruna saya. Slowly, dah nampak dia mula untuk bertanggungjawab. Setakat kapur kasut, angkat pinggan letak sinki,vakum rumah, buat air ribena bolehlah while Afriena plak, kalau suruh kemas sikit sikit dia oklah. Budak-budak ni jangan dipaksa nanti dia malas terus. Rayyan plak memang over rajin ..tengoklah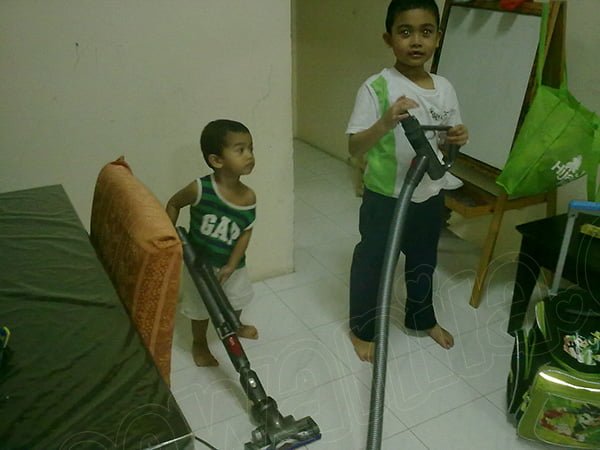 Takpe , vacuum tak bersambung pun boleh vakum… pretending ok. Masa ni kakak dia tengah mandi. Dia sibuk tolong abeng dia (read:ahbeng) . Sat lagi dia join tatak dia mandi plak. busy ok banyak benda nak buat.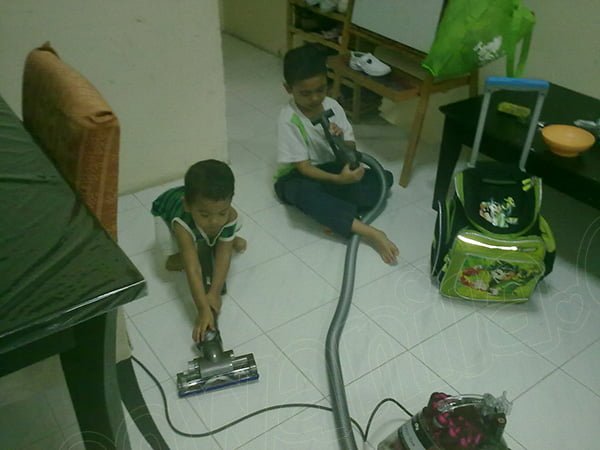 gigh dia vacuum rumah…hahahah. Buat papa, sila-sila lah merajinkan diri macam anak-anak kita . sekali sekala kena tunjuk kerajinan ye.
Meet my handsome boy yang manja kededek…yang masih taknak lepas susu walau dah nak masuk dua tahun and yang makan banyak dan suka ikut orang cakap.