Biasalah kalau pergi mana-mana harus makan street food. Ala yang jual tepi-tepi jalan. Hahaha..bukanlah tepi jalan ni kira makanan yang wajib cuba kalau ke tempat asing. Tapi nak beli tu mestilah tengok halal tak? bersih tak? fresh tak?
This time round, kiterang ke Hatyai, tak pergi pun makan busat kat normal restoran sebab kiterang nak makanstreetfood je. Lagipun bebudak ni kalau makanan cam gini sukalah dorang.So lepas balik dari floating market (padahal masa ni dah konyang) singgah sebentar di Lee Garden plaza, saja nak cari cari benda yang boleh dibeli. hahaha bukan nama Yatie lah kan kalau dia tak keluarkan duit beli barangkan.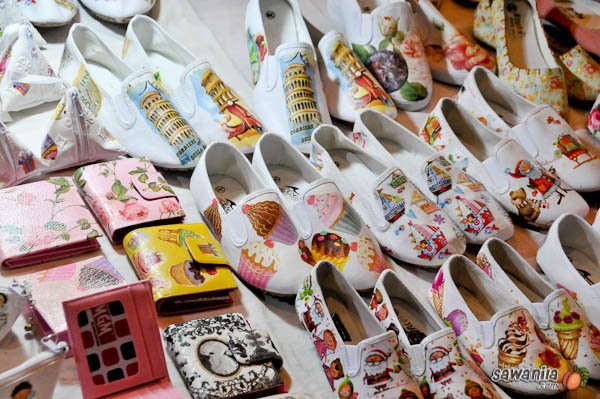 cantikkan kasut tu… nak beli tapi Afriena taknak…semualah lawa dan cute
Sempatlah pergi farmasi beli few thing untuk dibawa bekal ke Krabi. Best thing kat Siam ni kan, barang yang dijual kat farmasi murah sikit dari KL. Selepas singgah sebentar membeli baju dan barang farmasi, kiterang round kat gerai-gerai kat luar. Tujuannya adalah untuk membeli Pulut Ayam dan Pulut Mangga.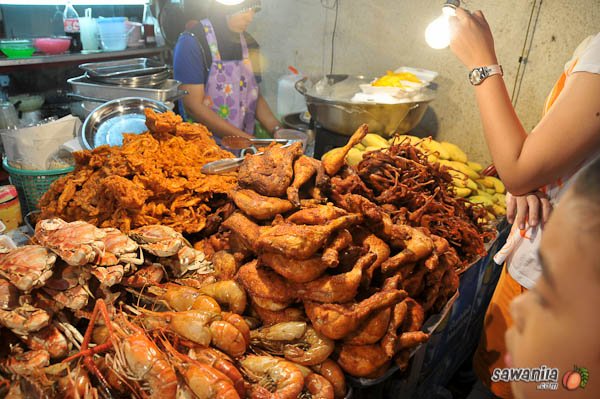 Beli pulut ayam dua, pulut mangga dua. Memang licinlah semua makan. Pulut ayam dia bestlah sebab dia kasi cili dan bawang putih goreng. sedap. Pulut mangga biasa-biasa je sebab kiterang dah makan yang ter-best kat Bangkok hari tu kan,Makan dalam bilik je, sbb semua dah penat. Makan pulut panas-panas, ayam panas-panas pekena plak dengan Fresh Orange juice cap Malee. Jus yang pekat likat memang kalahlah Twister ke, peel fresh ke, sebab memang kaw kaw pekat. Tak bolehke kita buat product yang berkualiti macam ni? Harga pun sama. Pastukan ada lagi benda yang best kat Hatyai untuk dibeli and kata tukang jual tu no in Malaysia…nak tau apa?
Buah kundang, I beli 1/2 kilo je sebab peminat dia sorang je.  I rasa buah ni kena kacuk dengan manggala.. sebab rasa dia cam mangga and manis sangat. Pastu besar lak tu.
See I told you besar kan…