Semalam lepas sekolah keluar kejap sebab nak makan pizza, ye demi mengenangkan anak tersayang yang tak nak makan, nak pizza plak..so tunggu papa balik terus je keluar. Sampai je, kiterang splt, papanye ke surau dulu, I ke Papa John dulu order, so senang lepas dorang solat, terus boleh makan while I plak ke surau. Tengoklah budak yang baru lepas muntah,
mengada-mengada ..lapar-lapar..padahal dia ni memilih makan.
Order 2 9″ pizza yang set tu, chick wing, wedges and drinks. Tinggal ni je.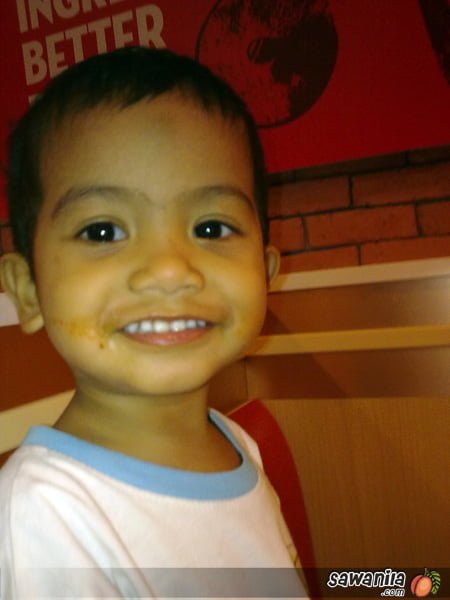 Ni muka budak yang selalu enjoy makan…pastukan tak nak duduk dalam stroller. Kakaknya yang duduk dalam stroller. Yang dia plak berlari je. Haish penat tau.
Tengok kakak dia… sekarang ni dia yang banyak duduk dalam stroller …Rayyan cuma duduk kalau dia rasa penat je. Tapi nak tunggu dia penat tu lama sikit. Pastu kita ke tempat membeli barangan coach ye
hehehe beli spek mata itam  coach je.. bukannya beg. Hakak  tak mampu nak  beli handbag. Tak kerja kena buat cara tak kerja. kui kui Thank you husband sebab belanja. Have to buy sebab my spek mata itam yang baru beli last June hilang last week. MUST have spek mata itam sebab I kuat silau nak drive susah. Ada diskaun masa beli ni 30% off. Sapa nak beli boleh lah ke kedai cermin mata kat Equine tu ha. Salesman dia pun senang berkira.