THIS IS A 48 HOURS STICKY SPONSERED POST


Still fresh in our mind when we were crowned as the Grand Prize Winner for the Nuffnang Friso Family Day Out in the year 2008. Thank you for the great opportunity and introducing us to Friso.
Since then my kids start drinking Friso Gold and it was our best decision by choosing Friso Gold to our kids as it is specially formulated with P2 Dual System, a combination of 2 Prebiotics and 2 Probiotics Probiotics (Bifidobacterium lactis, Lactobacillus paracasei).
Both Prebiotics and Probiotics have been proven to impact the gastro-intestinal microbial microflora. A positively changing gastro-intestinal microbial community (probiotics: Bifidobacterium lactis and Lactobacillus paracasei) will strengthen the immune system. Friso Gold also contains DHA, AA3 and SA, which play important roles in brain development.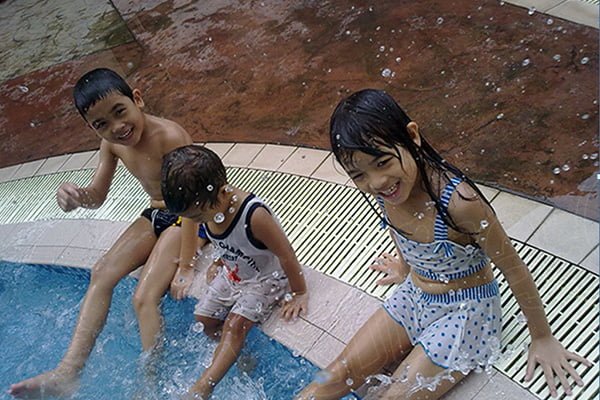 They 're enjoying their swimming session
Good thing should start early! That's what Friso Gold believes and that's what I believe. Ashraff and Afriena are very active and full of curiosity. They really enjoy exploring things and me as a mother don't really worry about their exploring activity as long as they received a solid immune system from early age, they can explore and learn at the fullest safety and healthy. With a strong gut, they can fight diseases and develop a healthy mind and body.
We would like to tell everybody that Friso is conducting a Growing Up Together (GUT) Days from 22nd February 2012 until 8th of April 2012 where it will be a platform for parents and their children to explore new and exciting things together, as Friso believes that experience is a child's best teacher. So guys, get along with your kids for a wonderful happening at Friso GUT Days where you can play the interactive games with your kids. Not only that, get your hand dirty to craft your own T-Shirts, badges and lots of fun together. Lastly, there are a lot of goodies and free gifts will be yours to take away for sure.
Oh ya! Please get your GUT Activation by clicking THIS LINK NOW! I've done mine and how about you? Have you activated yours? Last but not least, don't forget to attend the Friso GUT Day with your kids in four GUT activations nationwide stated below:
Week 1 : 22 – 26 February : 1 Utama, Klang Valley
Week 2 : 9 – 11 March : Sunway Pyramid, Klang Valley
Week 3 : 13 – 18 March : Aeon Bukit Indah, Johor Bahru
Week 4 : 5 – 8 April : Queensbay Mall, Penang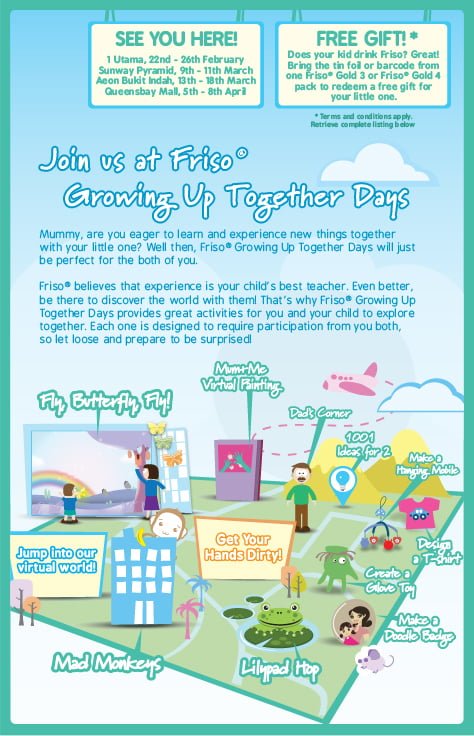 And one more thing, Friso GUT Days Event has been launched with a BIG BANG on an innovative platform, which is the "Talking Newspaper", done in collaboration with New Straits Times. Come and watch this "Talking Newspaper" in action…..