Hi semua…apa khabar hari ni? Last week,pagi-pagi takde menda nak buat, I bukak channel 703 tengok Dosanko Cooking.Suka cara masakan jepun yang simple nih. So sekali hari tuh Ashraff pun join sama. tiba-tiba dia
Ashraff : mama, can you cook this for lunch?
Mama: boleh.. but we don't have carrot and potato and milk (saja goreng dia )
Ashraff : It's ok , let's go shopping
Nak tak nak kena gak pi beli sebab potato tak cukup , susu pun sikit. So sampai kedai, semua barang dia remind nak beli. jangan memain dgn dia dia hafal resepi. So balik rumah potong ayam and masak.it just took 20 minutes to cook this. Rasa dia very light dan sedikit lemak. Tapikan kalau ikut tekak I, I suka lagi kalau letak sedikit cream. So next time harus letak. Resepi sebenar, dia potong sayur besar tapi I buat small dice sebab this is for my kids. Memang bagus buat sup macam ni especially for kids yang tak suka sayur and hidangan ni cukup lengkap. ada sayur, kanji , kalsium and protein.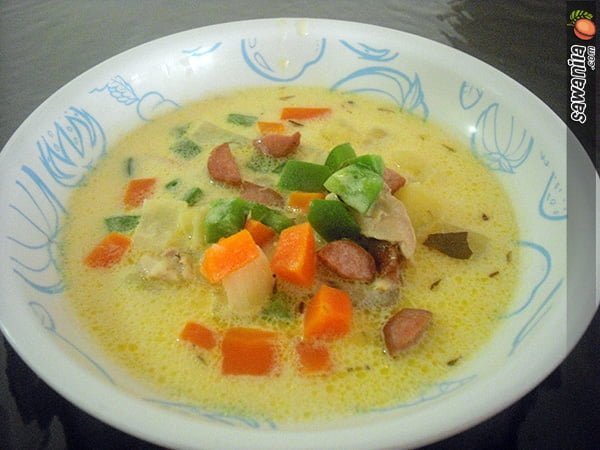 Resepi dia seperti dibawah
hidangan untuk 3 budak makan
INGREDIENT
1 big potato (white potato or russet) – dadu
1/2 carrot – dadu
1/2 biji bawang kuning -dadu
1 mangkuk kecil isi ayam – dadu
1/2 capsicum – dadu
1 sudu mentega
2 cawan susu segar
1/2 cawan air panas
1 mangkuk keju parut (gaul dengan sedikit tepung gandum)
garam dan lada hitam
secubit herba thyme, daun bay dan oregano (ni saja tambah )
METHOD
panaskan mentega dan masukkan ayam
kacau hingga ayam masak dan masukkan kentang, carrot dan bawang
kacau hingga nampak layu
tambahkan air panas dan herba
masak hingga sayur empuk
Bila sayur empuk, masukkan susu
rasakan garam dan lada hitam
renihkan susu tapi jangan mendidih dan masukkan campuran keju + tepung dan  capsicum
kacau dan bila nampak pekat tutup api
sedia dihidangkan
Note : Dosanko maknanya orang yang dilahirkan di hokkaido. MEnu ini adalah cadangan yang bagus untuk kanak-kanak. kot kot kalau takde idea nak masak intuk anak-anak, boleh try sup ni