Ni lah part yang membuatkan semanagt juang turun ahahahah…dapat avocado manalah pernah masak pakai avocado…bila balik rumah…surf carik apa boleh buat dgn avocado, punyalah banyak resepi senang…So first thing I buat is… belah avocado, pastu buang biji dia….
pastu pergi blend dia dengan cream…. campur limau sikit…Pastu?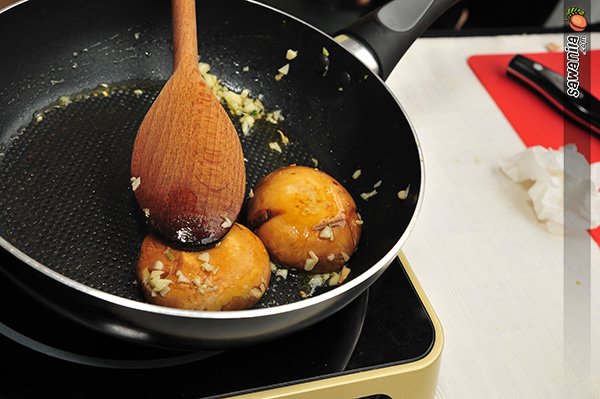 saute mushroom dengan garlic and butter, letak lada hitam n sikit garam,pastu I grill roti….
Lepas grill roti, I masak air sebab nak buat poached egg… baru belajar hari tuh so, nak practise la ni…oh ye..imagine buat poached egg takde cuka, dan pakai senduk kayu.. rasa macam nak pakai tangan angkat telur tuh…
first poached egg….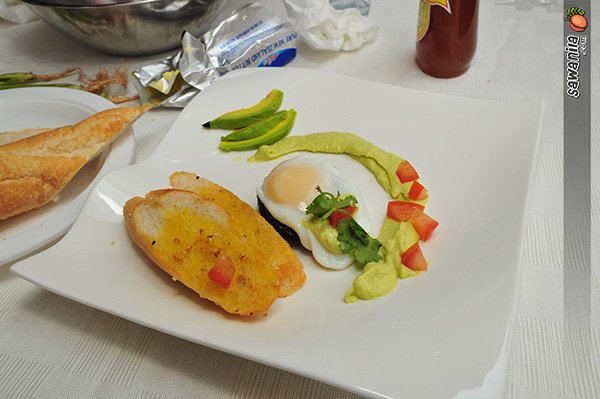 baru siap satu…hias dulu..masa dah nak habis
touch up….sikit… sebab masa dah nak habis.. dalam hati berdoa moga-moga juri tak rasa loya..
Inilah dish yang I masak .. nama dia, poached egg on mushroom serve with avocado sauce. Komen saya, I banga lah dengan diri sendiri sebab mampu buat dish macam ni. Rasa dia , judge kata telur tu consistent  tapi chef kettley cakap kurang rasa…hahaha I letak garam sikit jo…Bab hiasan, i know tak lawa, sbb memang tangan tak berseni..
Insya' allh lepas ni, nak beli avocado untuk masakan sebab sos avocado memang sedap…. oh ya kalu you all perasan kat atas meja tu ada bunga lavendar, patut I amik campur dalam sauce…
Pengalaman yang I dapat masa pertandingan ni adalah sangat berharga sebab I dapat keyakinan diri, hilang stress tau sbb dok rumah je manjang and I dapat kenal ramai orang. Since I dah ada confident sikit, now adalah berani sikit nak amik tempahan masak-memasak…:)