Hi all.. do you like traveling? I'm sure yes. If you ask me, my answer will be yes and one of the best traveling I ever had was our Kra Project. Why? Because we drove from KL to Phuket. The route ; KL – Changlun – Hatyai – Krabi – Phuket – Alor Star. The idea came from Kheirul when our kids complained that they had a short journey to Malacca. So within 3 months, we booked the hotel , studied the routes, searching for interesting places, things to do and what to eat and to bring.
So, on 26 September 2010, 5 of us started our journey at 12am and arrived Changlun around 5am. Had our Fajr prayer then settled for immigration's procedures. Bought the insurance for our car and filled out the white card.
Done with the immigration, we drove to Hadyai and checked in to Hotel Novotel Centara Hatyai. Good ambiance but really miss our homeland parking lot. While waiting for the checked in, we had our breakfast in Hameed's, the halal restaurant in Hadyai.
American Breakfast for Kheirul and kids
Since, I am already miss our homeland, I ordered Nasi lemak. MUST TRY very nice, hot and spicy and creamy rice
But before we had a good breakfast,We had our little walk in their wet market, err actually we lost
just wandering around n GPS not helping us on that day. Many Muslims selling food here. Incase you want to try their food :)
Once we checked in, we had a rest and later we explored the city of Hadyai. All I can say their food was so awesome especially their Mango Sticky Rice. We had it as our desert and dinner for 2 night in a row. believe it !
the best pulut mangga, The stall name is Rabiah and located in front of Lee Garden
For those who's planning to go to Hadyai, don't forget to try good food at Salma Restaurant. See what we had. The Clear tomyam so good and the best sweet sour fish was here. yummy.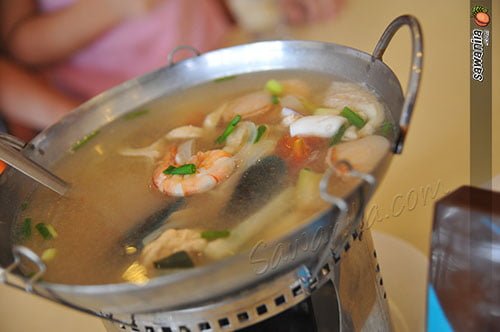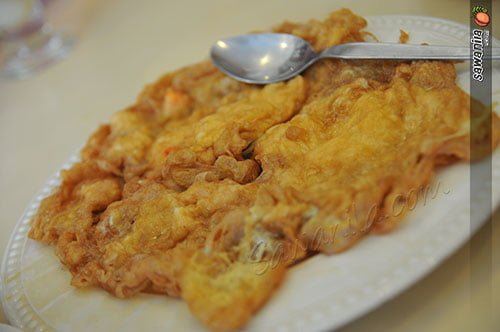 The clear soup tom yum and speacial omelete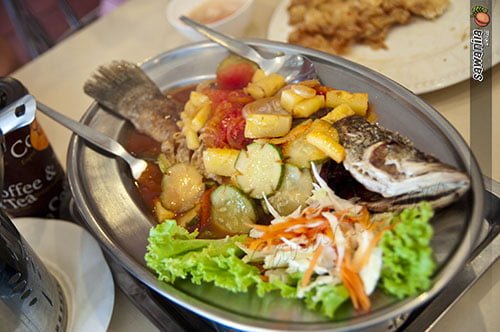 The nice crispy sweet and sour seabass
Apart from the food and delicacy, we had our tailor made pants in Hadyai.We had the tailor made at Chokthavee Textile. It was so cheap.
and it's done within 24 hours.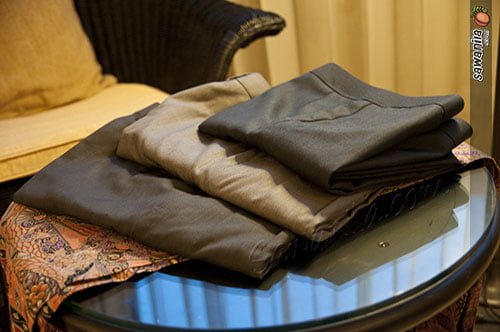 Talaaa… it's done
On the third day, we drove to Phuket, It was 9 hours driving with few stops. We really surprised with public toilet here.They were super clean. No smells and no stains at all.
One thing should bring when you driving in long hours is the snacks. The potato chip tom yum flavors is recommended to buy. It's real hot and sour. Wakes us up.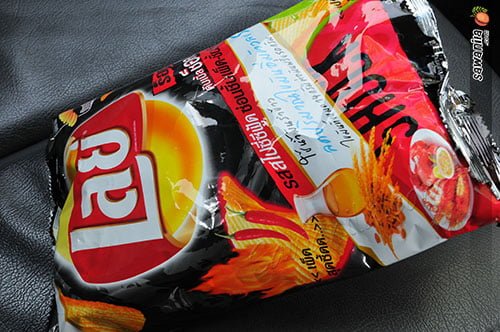 We're using GPS guide but hey we were still lost. We lost in Trang. Made few round and found a way out. Trang, very nice and classic town. We did not stop by but made few round to find a way out.
After Trang, we finally reached Krabi. Another nice place. They are few mosques there and halal food was not a problem. Again we did not stop in Krabi, just had our lunch in car. Tuna sandwich, bottled water and Strawberry jam + bread for my little diva. Hours & hours in car really adventurous to my kids. Well , thanks to DVD and LCD screen. They watched all kind of cartoon movie.
And finally we in Phuket!! 7 hours driving was really worth!!!
Our first time in Phuket, we spend an hour to drive around the island just find our hotel. And the hotel actually near to Banla Street. We have made a good choice. Near to the beach, shopping street and food. This is the hotel.
We had a little walk along the beach and Banla Street, grabbed a halal snack there. Not that hard to find halal food. Just look for halal logo, moon and star and don't forget to ask if you not sure what are you going to buy. Insya' Allah you'll find halal food.
And their night time was really happening.Know what we mean? The lady boy
some of them are very pretty…
The first night we were there, we drove to Tesco Lotus for stock up. Alhamdulillah there's section where you can get halal food and some food stall in their food court also offering halal food. We did not planed to go to any restaurant as we are really tired. Bought bread, tuna, milk and butter for dinner and breakfast. back in our room, we really had a good night sleep. Early morning, we did not want to miss the sweet sunny sun, we had a little walk to see fisherman with those fishes. Oh my….the fresh catches.
What a good experience especially for kids. They haven't seen this before
After the bliss walk, we spent our great morning in the pool. Kids was really happy having a morning dip especially my 5 months old baby. Ashraff showed his swimming skill and Afriena showed her screaming skills too.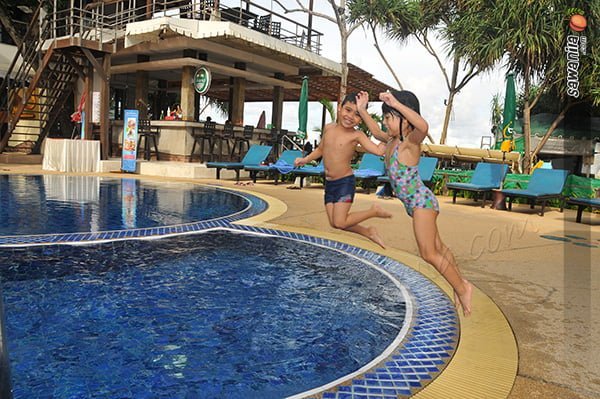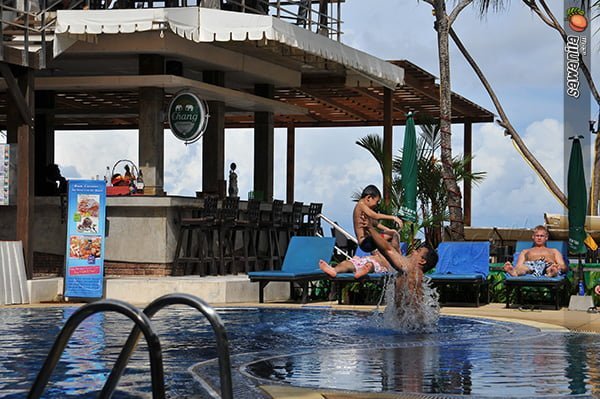 family bonding :)
After swimming we had a light breakfast, we drove around Phuket. Quite big island. We were looking for lunch. And our lunch was from the street. We had rice, grill chicken and catfish and grill corn.
After lunch, had a  short nap then take a walk .
Wanted to try the massage but too many people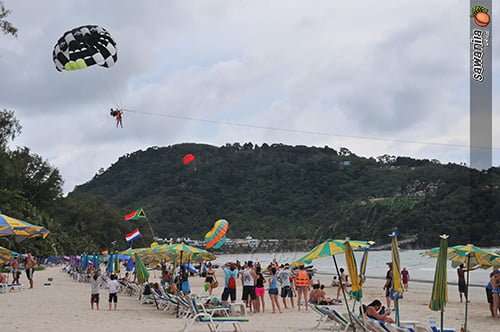 Ashraff was asking for para sailing . Sorry son, you're too young for this
1.5 hours walking, finally everybody complaining hungry. And they told me that their papa is naughty because make them to walk very far. Worth walking as finally we found Kusuma Restaurant. We had shrimp, tom yam, squid,beef and juices. The food really mouth watering and until now, we can't stop thinking about the tom yam, hot , sour, sweet and fresh!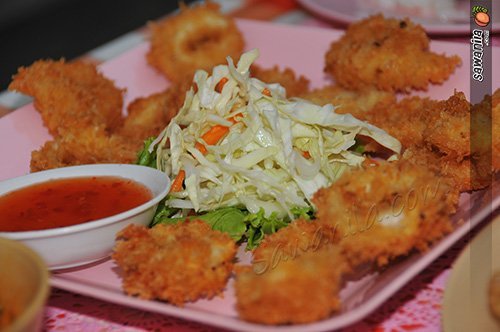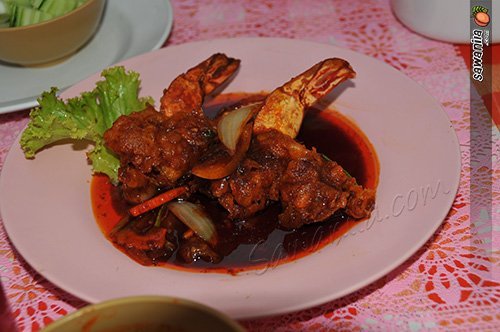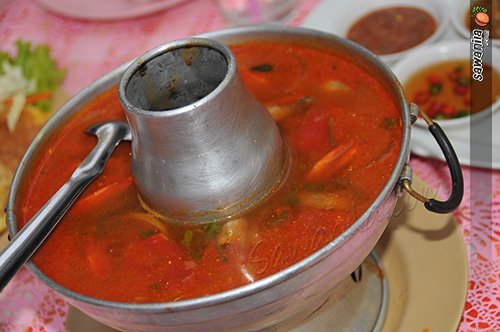 The magnificent Tom Yam
The tenderous "Daging Masak Merah"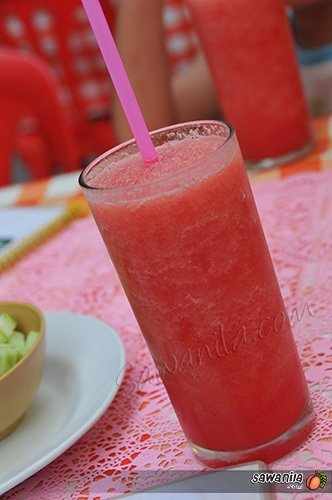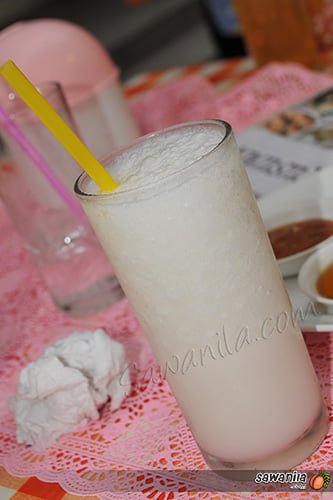 The refreshing drinks…. Watermelon and Blended Coconut.
Done with the dinner, we surrendered to walk and decided to take Tuk Tuk. Please.. no more walking. Everybody seemed excited with Tuk Tuk and amazingly the Tuk Tuk driver can speak Malay very well, just like KL people. They are so friendly with us. Everybody had a early bedtime because we're going back home to Malaysia.
On the next day, rise and shine! we checked out and drove back to Malaysia. We just stopped for natures call, petrol station and to buy some food and snacks.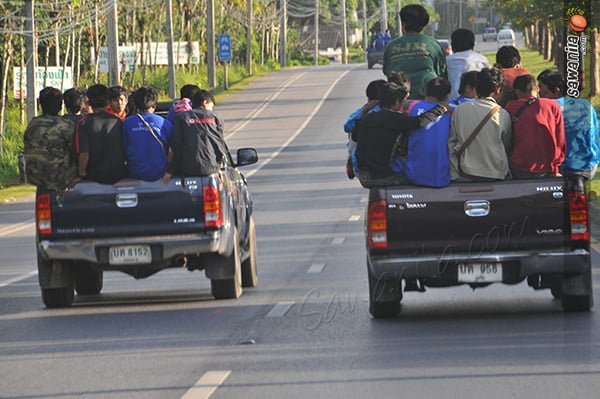 seeing how this people do for their living always make me feels how lucky we are
Had our  lunch in car while driving. 9 hours driving and finally we were in Alor Star.
Had roasted chicken bought in some where near Krabi. The lady was trying hard to speak Malay with us
Thank you GPS and Citra. Had a good dinner then back to hotel for a good sleep because the next day, we driving home.We definitely do this again.Travelling on the road with 2 preschool toddlers and 6 months old baby really challenging but they have fun too. Thank you to LCD TV in a car.
Sinopsis :
We drove : Naza Citra 2.0
Pit Stop : Kuala Lumpur – Hatyai – Phuket – Alor Setar – Kuala Lumpur
Total Dinstance : 2178km
Travelling period : 6 hari

Day 1 (26/9) : Kuala Lumpur – Hatyai
Day 2 (27/9) : Hatyai
Day 3 (28/9) : Hatyai – Phuket
Day 4 (29/9) : Phuket
Day 5 (30/9) : Phuket – Alor Setar
Day 6 (1/10) : Alor Setar – Kuala Lumpur

Petrol RON 95 :RM466.00

25-9-2010 : Kuala Lumpur : RM57.00
26-9-2010 : Changloon, Kedah : RM81.00
28-9-2010 : Khao Mai Kaeo, Sikao, Trang : RM84.00 (B31.08/liter = RM3.11/liter)
30-9-2010 : Phuket : RM121.00 (B34.07/liter = RM3.41/liter)
30-9-2010 :  Bang Klam, Songkhla : RM50.00 (B30.95/liter = RM3.10/liter)
01-10-2010 : Alor Setar, Kedah : RM73.00

Tol : RM111.70

Jln Duta – Juru : RM38.90
Sungai Dua – Hutan Kampung : RM11.70
Jitra : RM1.40

Way back

Bukit Kayu Hitam (Imigresen): RM3.50
Jitra : RM1.40
Hutan Kampung – Alor Setar :RM0.40
Alor Setar – Sungai Dua : RM11.40
Juru – Damansara : RM43.00

Imigresen Thailand : RM25 White Card (RM2 x 5) = RM10

Passport Pergi (RM1 x 5) = RM5
Passport Balik (RM1 x 5) = RM5

Thailand Insurance : RM25
TOTAL : RM 627.70
Conclusion
Our Kra project was really challenging as we brought kids together but made us more closer. We learn new thing especially kids .They learned on how some people in different places earn for their living,they learned  different taste of food, they listened to different kind of languages and they saw many kind of people. Like some people said " The more you travel, the more you know". No matter where you go, either the places are well-known or not, there must be special about them as long as you know how to enjoy them.