Last Saturday another happy day for Ashraff and Afriena. Apa taknya another funday kat playland. A week before kat Kizsport and now kat Megakids. First of All, Thank you to Redmummy and family sebab invite Sawanila family for the party. I ingat lagi kat you tau… me just quite cos too busy. And Thanks Rose for the follow up hahaha.. nampak sgt I jarang check email kan.
Pukul 8.30 dah sibuk kejutkan anak-anak sbb nak suruh mandi and breakfast. Dorang breakfast biscuit and juice je kat rumah and sambung breakfast kat Kopitiam kat MV. Me? I just had juice sbb while dorang breakie , I pergi carik hadiah….Habis hadiah terus naik atas ke MEgakidz. Mak aih cam dah lama tak datang sini.Sesampai jer, ada orang dok depan muka pintu sambut tetamu…
RM with GBM…..after sesalam semua, I pergi lepak kejap….and jumpa few bloggers jugak
Tapi yang kelakar masuk jer, budak 2 orang ni dah hilang. Oh ya theme colour for birthday party is Red for gilrs and Blue for boys, tapi Afriena kena pakai pink sebab she cannot wear Red sebab Abg dia tak kasi. Ashraff cakap, Only me can wear Red colour. boleh gitu, So pink pun pink la.
Me and Rayyan, again he wore same baju sbb ak ikut tema…. I like this pic
Lepas tu sesi bergambar….but if guys nak tengok gambar see here sbb i tulis nak cepat nih, cos tgh menyusu. Then around kul 12, party start.
Ha ni time nak start tiup lilin… I dok ngan kids kat belakang…. masa ni.
Sedap kek tuh esp red velvet…sapa buat kek tuh? I makan 2 slices haha hantu kek betul….krim pun I makan ok
Pastukan ada mascot appearance…. Barney ke Dibo, my kids tanya….Lepas party apa lagi , cabutle pergi main till drop hahaha. While anak-anak pergi bermain,mak budak dok sembang……some pics with bloggers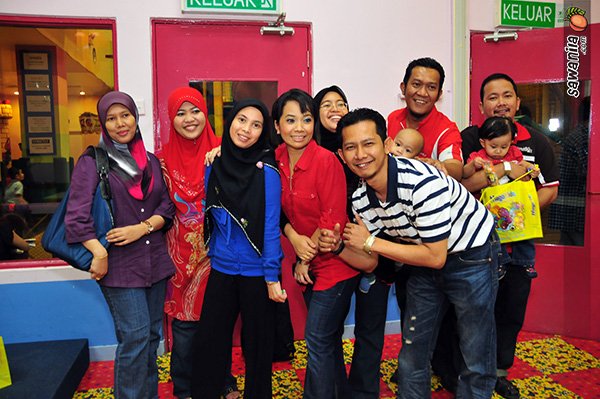 wife jejai, wife eyriqazz, me, kak red, sirman, sumijelly, jejai and eyriqazz. Dorang semua ni blogger tegar tau tak.Tapi yang buat I terharu is wife jejai, came to me said, Hi I Mas, I baca blog you.. hahaha terharu gitu. She's Kheirul's colleague.
Pastu sambung bersembang lagi…
Ha ni sessi bergossip yer…. hahah nice meeting you Kak Rini….Abbas Rayyan tu hensemkan.. Rambut dia cam nak pinjam kasi Afique Arrayyan plak.
Selain tu jumpa gak dengan few blogger lain, like Kak Ita , Byzura,sw33tdarling dan ramai lagi. Sorry kalau tak sebut sebab biasalah…kan lupa..
ANW, Thanks again for the invite, nanti jemputlah lagi. And as usual, time nak balik mmg problem sbb 2 org budak tuh tak nak balik. siap nangis you….. Nasib baik tak kena piat telinga. geram tau, mama n papa nak pi solat dulu lah. Kepas solat kiterang pi makan lagi then bawak bebudak pergi main kat Jusco plak. Dorang nak main bowling plak.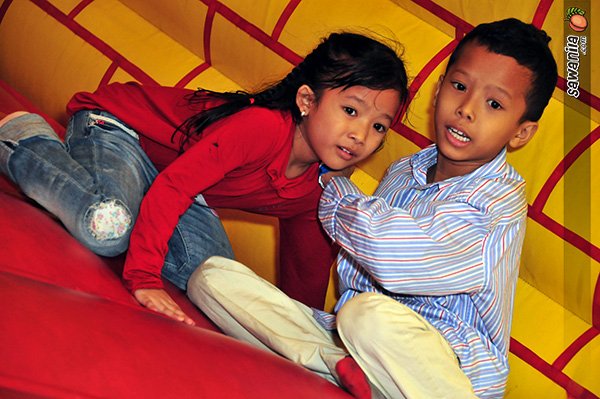 Finally, to Shameel n Melysha, Happy birthday to you.:). Hope you like the birthday present yang tak seberapa itu ye. :)