ALhamdulillah semalam, selesai sudah akad nikah for my brother. Since his wife kena pakai wali hakim so Akad nikah just buat kat pejabat Mais kat Shah Alam. Cuma 3 orang je pergi menemani, Me , my sis and her hubby. Oh lupa Rayyan pun pergi. Since semalam malas nak drive, pengantin yang datang amik I . Biasalah..kaka sulung kuasa veto.Sampai sana , pergi makan dulu…tapi dia tak selera pun nak makan. Dok tanya I apa soklan nanti dia tamya. hahaha. Dalam kul 10, dah ada dalam pejabat tok kadi. Mak aiih tok kadi muda nye…. So before akad nikah, dia ada kasi khutbah NIkah. Bagus gak… tumpang dengar. Dia citer apa tanggung jawab isteri apa tanggung jawab suami. Mesti ada give and take. Yang bab tak tahan kelakar, Isteri tak boleh keluar rumah tanpa izin suami, tapi kalau rumah terbakar, keluar je tak payah tepon suami tanya boleh keluar ke tak. Gelak semua orang…
Pastu akad nikah bermula.. kejap jer dah sah suami isteri.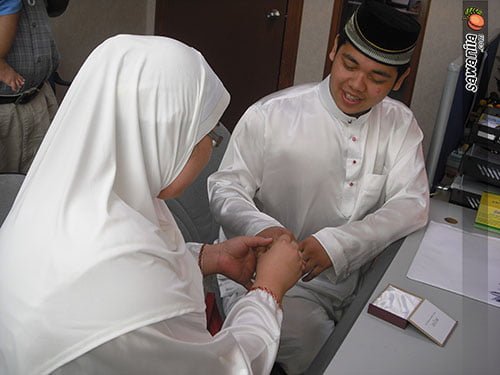 Ni masa sarung cincin, tok kadi sempoat nak usik dorang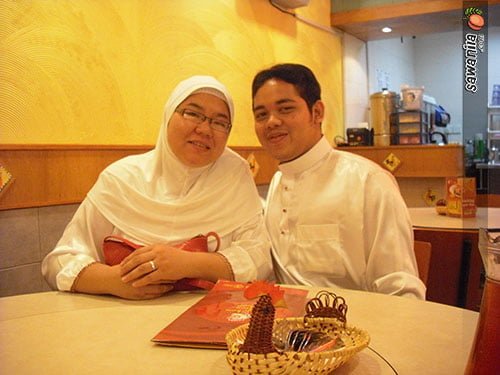 Ni plak lepas akad nikah, kiterang pi makan -makan….
Tahniah to them, semua dimurahkan rezeki… panjang jodoh ye….