Berbuka semalam adalah antara yang tersedap. Habis nasi seperiuk. Selalu masak 2 cup tak abis tapi semalam abis. Adakah kerana I masak sambal udang? Oh kuih di atas adalah dibeli dari gerai biasa. Tapi semalam kuih dia tak sedap. Karipap je yang sedap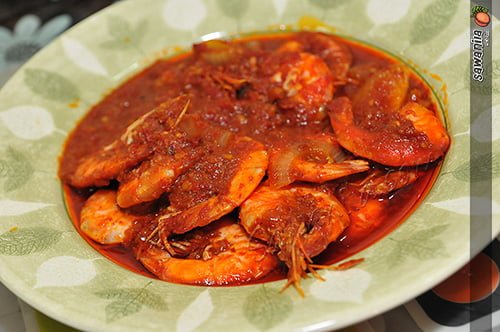 For the first time since bersalin barulah dapat merasa sambal udang yang di masak sendiri. Sedap….
And juga ada ayam goreng. Macam biasa my ayam goreng selalu diperap dengan halia, bawang putih dan kunyit.Ingat nak buat ayam goreng berempah, tapi malas nak menumbuk. Afriena ada offer nak tolong tumbuk rempah tapi kalau dia tumbuk, mau 3 jam dia main kat situ.Kang sepah dapur. heheheh I tak suka dapur yang bersepah…
So hari ni ingat malas nak masak… beli jelah. So far berpuasa baru sekali makan yang dibeli. What to eat today???Ingat pasal makan je kan. Apalah nasib orang kat Pakistan dan Palestin. Dorang bukak puasa makan apa ye? I selalu bebel kat bebudak kalau dorang tak abis makan, cakap kat dorang yang orang lain ada yang tak dapat makan. Pastu kalau ada keluar dalam TV tunjuk orang tak dapat makan, cepat-cepat i tunjuk kat dorang biar dorang tengok .