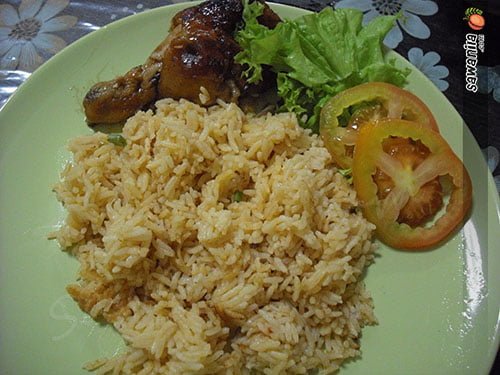 Last Week punya masakan hari ni  baru nak hapdet. Malas betul kan.. Actually bukan malas.. tapi bz dengan anak.Bila dah kesekolah baru nak boleh ngadap pc. Once budak berdua tu balik nak layan dorang lagi and time tu jugak baby merengek. TIme tulah nak sembahyang time tulah budak 2 orang tu nakberak mandi kencing makan semualah. Ingat jadi housewife tak bz? Stress lagi banyak dari dok opis. Cuma short term stress kalau opis long term stress but comes with big money.
Merapu plak kan…. ha ni nasi ayam tomato nak tunjuklah kan. Cam biasalah sisuami before gi kerja main order je nak makan apa… Dia cakap nak makan nasi ayam tapi dalam hati kecilku teringin nak nasi tomato. Kang buat nasi tomato cam derhaka plak kan.. so I buat nasi ayam tomota. Nak resepi??? sat noooo tengok bawah. Well Buat nasi ni pekena dengan ayam bakar madu and sup. Kalaulah dapat makan dengan ayam masak merah perrrrrhhh.. Tapi Ashraff suka plak nasi tomato ni.
INGREDIENTS
2 cups os fragrance rice – washed
1 screwpine leaf
2 spoon of tomato puree
a tsp of mince garlic
1 anise star and 2 caddamon
2 cups of chicken stock
1 tbps of margarine
METHOD
heat the margarine
then saute garlic with anise star and caddamon
add the tomato puree and screwpine leaf (daun pandan)
then add chicken stock.
once the stock ready and cooled, cook the rice with stock las usual.
Sorry dalam bahasa orang putih, copy paste dari posting lama. Ayam tu plak , I bakar dengan madu, kicap, and bawang putih for 30 minutes. Jangan lama sangat nanti kering tak sedap.Kalau nak resepi ayam putih click SINI and kalau nak resepi sup kaki ayam click SINI
Try le esp for bukak puasa.